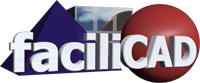 Austin, TX (PRWEB) January 14, 2013
faciliCAD LLC, a provider of computer-aided facility management (CAFM) software, announced the release of faciliCAD® Version 5.2, an interim release, that provides enhanced compatibility and performance in 64-bit computing environments and incorporates several improvements suggested by their customers.
The faciliCAD facility management solution is a powerful management tool that is affordable to own, easy to use and simple to implement. Coupling the power of AutoCAD® with Microsoft® SQL Server™ allows faciliCAD to easily link graphical objects with database records and transform typical CAD drawings into intelligent resources. faciliCAD is used by building owners, property managers, architects, facility management consultants and others who need to plan and manage their space portfolios to maximize productivity while reducing costs.
Based on client feedback and requests, faciliCAD Version 5.2 includes:

Improved 64-bit support, providing for enhanced performance and enabling users to handle larger datasets.
New and updated management reports, including Occupancy and Employee Area reports, bringing the total number of reports to 170.
Enhanced user interface, allowing for improved workflow and efficiency.
"faciliCAD is committed not only to listening to user feedback, but also utilizing it to deliver the most intuitive CAFM solution on the market." said Bill Kilp, VP of Product Development and Consulting Services and founder of faciliCAD.
About faciliCAD, LLC
faciliCAD is a leading provider of computer-aided facility management (CAFM) software and solutions. faciliCAD is focused on providing our clients a best-in-class CAFM solution that is affordable to own, simple to implement, and easy to use. In addition to offering innovative facility management applications, faciliCAD provides expert training, support and consulting services.
faciliCAD's current install base ranges from small facilities managing 100,000 sq ft to Fortune 500 facilities managing over 5,000,000 sq ft. The types of facilities currently using faciliCAD include Offices, Healthcare, Manufacturing, Education, R&D, Power Plants and Government Agencies.
Headquartered in Austin, Texas, faciliCAD has been serving the facility management industry since 1991. For more information about faciliCAD, please visit facilicad.com or call 888-757-2236.
# # #