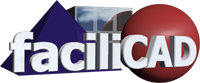 Affordable to own, simple to implement, easy to use.
AUSTIN, TX (PRWEB) September 18, 2012
faciliCAD LLC, a provider of computer-aided facility management (CAFM) software, today announced the release of Version 5 of its CAFM software solution. faciliCAD® software enables organizations to effectively manage people, space, and assets while reducing operating costs and improving overall productivity. The new release offers improvements to the user interface, new visual reporting tools, and major enhancements in efficiency, functionality and design.
faciliCAD is a user-friendly facility management system that harnesses the power of AutoCAD® by adding FM-specific features linked to a powerful database and transforms typical CAD drawings into intelligent drawings. faciliCAD is the perfect FM solution for building owners, property managers, physical plant engineers, architects, FM consultants and others who need to accurately account for space, people, and assets. With the ability to provide both graphical and non-graphical reports, faciliCAD brings clarity to any organization's facility management requirements.
"Since faciliCAD's inception, our design goal has been to create a product that was affordable and user friendly," said Bill Kilp, VP of Product Development and Consulting Services and founder of faciliCAD. "In Version 5, our main focus was on the user experience. Experienced faciliCAD users will be able to navigate through the program faster and new users will benefit from a shorter learning curve."
Developed in close collaboration with existing customers, faciliCAD Version 5 includes:

Improved user interface, allowing for greater productivity and ease of use.
New management reports, including Warranty and Lease Expiration reports, enable more efficient reporting.
Dialog box enhancements, enabling more efficient use of the software.
Web Manager component, which allows users to quickly and easily access strategic facility information while securing data from unauthorized changes.
"faciliCAD V5 introduces significant new functionality to our customers," said faciliCAD President and CEO, Doug Wietbrock. "We have also redesigned it with a sleek new look that simplifies and improves how it works. faciliCAD, which has always been one of the easiest CAFM solutions to use, just got easier."
About faciliCAD, LLC
faciliCAD is a leading provider of computer-aided facility management (CAFM) software and solutions. faciliCAD is focused on providing our clients a best-in-class CAFM solution that is affordable to own, simple to implement, and easy to use. In addition to offering innovative facility management applications, faciliCAD provides expert training, support and consulting services.
faciliCAD's current install base ranges from small facilities managing 100,000 sq ft to Fortune 500 facilities managing over 5,000,000 sq ft. The types of facilities currently using faciliCAD include Offices, Healthcare, Manufacturing, Education, R&D, Power Plants and Government Agencies.
Headquartered in Austin, Texas, faciliCAD has been serving the facility management industry since 1991. For more information about faciliCAD, please visit http://www.facilicad.com or call 888-757-2236.