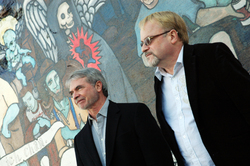 "Greg Cagle and Rick Nash lead the charge...This is a solid session with meaningful lyrics and music that sticks to your ribs...This team based in Charlotte, NC is worth listening to." - D. Oscar Groomes - O's Place Jazz - review of Soul Complete
Charlotte, NC (PRWEB) May 18, 2010
Hot off the heels of their debut album Soul Complete, North Carolina-based songwriting duo Cagle & Nash are back from the studio with their sophomore release - Loungevity. From the moment you pick up the disc and see the album art adorned with pics of sunglasses and cocktail bars, it's clear that Greg Cagle (lead vox, guitar) and Rick Nash (horns) have taken the lounge aesthetic to heart for this album. And the pair don't disappoint, with 11 smooth and soulful new tracks spanning a range of cocktail-friendly genres.
The overall vibe of Loungevity fits in the jet-set philosophy of the classic Space Age Pop and Lounge acts from the '50s and '60s. There are the lush horn and string arrangements, topped with Cagle's smooth baritone and accented by tight female background vocals. But Cagle & Nash also add a bit of funk and bite to the mix, drawing influences from late '70s acts like STEELY DAN and CHICAGO.
Loungevity begins with the upbeat and radio-friendly "Straight to L.A.," a perfect track to start any day. "Black Tie Affair" tells tales of the good life, spent behind the bar with a cocktail in one hand and a stack of money in the other. "If Only" and "Mmm Paradise" draw influences from the smooth bossa-nova vibe, while "A Little Bit of Attention" is a full-on funk jam. All-around, Cagle & Nash tackle each genre with masterful execution, both in terms of songwriting and arrangement. The playing is top-notch and the record exudes a certain class and sophistication.
The duo of Greg Cagle and Rick Nash first got their start back in the '60s, playing in bands near their hometown in North Carolina, most notably in the band Sugarcreek. Fast forward to the '80s and the duo reunited to begin composing and recording songs. Rick and Greg worked together on and off until 2008, when they officially united to form the duo Cagle & Nash. In 2009 they released their debut album Soul Complete, which was received well by both radio and press. O's Place Jazz Newsletter even named the record one of the Best Albums of 2009. Now, with the release of Loungevity the duo are back on the scene and ready keep making music.
"Greg Cagle and Rick Nash lead the charge...This is a solid session with meaningful lyrics and music that sticks to your ribs...This team based in Charlotte, NC is worth listening to." - D. Oscar Groomes - O's Place Jazz - review of Soul Complete.
###