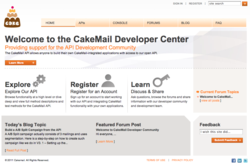 "Apigee Enterprise allows us to take our API to the next level, providing in-depth analytics about usage and performance."
Montreal, QC (PRWEB) May 02, 2011
CakeMail (http://www.cakemail.com), a leading white label email marketing provider, today announced the integration of the Apigee Enterprise solution to control and manage the CakeMail API. This pairing gives CakeMail customers greater flexibility, easier integration and more freedom with their applications.
The highly extensible and fully customizable CakeMail API allows developers to integrate CakeMail's email marketing platform into other business systems, including CRM, blog, and SaaS applications. In addition to improving the end-to-end experience for developers, the addition of the Apigee API platform mediates XML to REST and JSON formats for easier integration, and allows CakeMail to rate limit resource-intensive API calls.
"Apigee Enterprise allows us to take our API to the next level, providing in-depth analytics about usage and performance. This means that we can measure and monitor our services more easily," says Vincent Lamanna, CakeMail Director of Products, "Working with APIs can often be complex, creating steep learning curves and making integration difficult. Having an easy to use tool like Apigee Enterprise allows our customers to integrate our email services with their own applications more easily and efficiently than ever before."
"CakeMail's API gives customers the ability to bring Cakemail's powerful email marketing platform into their business systems, giving them control and flexibility," said Greg Brail, CTO, Apigee. "CakeMail is an industry leader in providing a great customer and developer experience as part of their API strategy."
CakeMail uses Apigee Enterprise's industrial-grade API platform as an on-demand hosted service to get business-critical API analytics and scale its rapidly growing API. To learn more about the CakeMail API, visit http://dev.cakemail.com/.
About CakeMail
CakeMail provides open-architecture, multilingual, white label email marketing services for resellers, agencies and software companies worldwide. Founded in 2007, the Montréal-based company helps customers around the globe deliver marketing messages in more than a dozen languages. To learn more, visit http://www.cakemail.com.
# # #