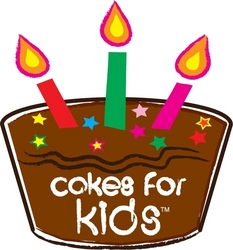 We're really excited to be able to help disadvantage children in the area get the chance to celebrate their birthdays
Freeport, NY (Vocus) November 25, 2010
Imagine, a family is barely making ends meet and is visiting their local food pantry each week. It is their daughter's birthday but they cannot afford a cake. Now imagine that the childcare center she attends has been given a birthday cake for each child! With the Love and Quiches Desserts Cake for Kids® program, that is a possibility.
As part of their commitment to the community, Love and Quiches Desserts has teamed up with Long Island-based charity Island Harvest to make sure local kids don't have to know what it's like to not have their own birthday cake. Each month, the program provides birthday cakes and hosts birthday parties for disadvantaged children in recognition of their "special day." Love and Quiches Desserts believes birthday parties should be a part of everyone's childhood, and they are proud and very happy to bring Cakes for Kids® to the community—and eventually the country. Love and Quiches Desserts donates over 500 cakes per month to provide birthday parties at child care centers throughout Long Island.
"We're really excited to be able to help disadvantage children in the area get the chance to celebrate their birthdays," commented Andy Axelrod, Love and Quiches President, "We hope to someday soon expand Cakes for Kids® to become a state-wide, and eventually, country-wide program."
Love & Quiches have a long history of giving back to the community. In addition to Cake for Kids®, delicious baked goods are regularly donated to local services and organizations, including the Salvation Army, senior centers, police and fire departments. This commitment to the community does not go unnoticed—this month, the Excelsior Hook & Ladder Company bestowed Andy Axelrod as an Honorary Firefighter for his support of the Freeport community.
About Love and Quiches
Love and Quiches Desserts, a woman-owned and family-operated business, has been creating high quality desserts for large national & regional chain restaurant customers and other foodservice operators for more than 35 years. At Love and Quiches Desserts, their passion for food and commitment to excellence is reflected in the quality and consistency of their products. Based in Freeport New York, the company also has an outlet store that has become a Long Island destination. For more information, please visit http://www.loveandquiches.com
For more information, or to arrange an interview with Susan Axelrod, please contact Leesa Raab, leesa(at)adinfinitumny(dot)com or Beth Hurtubise, beth(at)adinfintiumny(dot)com
# # #