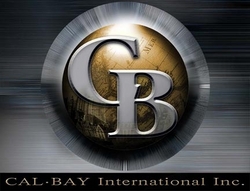 Henderson, NV (PRWEB) September 18, 2008
Cal-Bay International, Inc. (OTC: CBAY) is pleased to announce the launch of the company's new website http://www.cbayinternational.com along with the retention of Evision Holdings Inc. to assist the company enhance its corporate image as it begins its precipitous turnaround.
Melinda Rice, President of Cal-Bay International, stated, "The Company is pleased to announce the launch of the new website. This will showcase Cal-Bay's enhanced approach to creating value in a downturned real estate market. As we unveil our new and exciting business model, continuous updates will be made to the website powered by Evision Holdings Inc. The updates will keep shareholders, partners and Investors abreast of all corporate updates with Cal-Bay International. It is exciting to be working with the enthusiastic Evision Holdings team. We look forward to reporting progressive results to our shareholders and Investors."
Evision Holdings Inc. is a boutique firm dedicated to providing turnkey solutions to companies wishing to utilize its unique corporate image restructuring program.
Brian Holden, President of Evision Holdings Inc., stated: "Evision Holdings was retained by Cal-Bay International to begin aggressively advertising the company to the world theatre. We will use our many corporate owned websites as well as our many websites under development to further the progression of Cal-Bay International's corporate online presence. Evision Holdings will quickly develop new websites for Cal-Bay pertaining to all aspects of its business model. Cal-Bay's dynamic "Green" real estate business model will be marketed using advanced SEO techniques and Evision's unique brand of excitement necessary to creating in unparalleled level of corporate awareness for Cal-Bay.
"Evision Holdings will use a basket of advertising programs including traditional forms of media advertising. Our marketing campaign will include television and billboard advertising used to effectively communicate Cal-Bay's corporate message and position the company as an industry leader. I believe corporate presence is everything and my company will use all of its resources to assist Cal-Bay International in achieving success."
Source: Cal-Bay International, Inc http://www.cbayinternational.com
Dale Baeten
Investing In Stock Market, Inc. dale@investinginstockmarket.net PH:(920) 418-0153
Brian Holden President Evision Holdings Inc: brian@evisionholdings.com PH: (702) 240-9678
http://www.evisionholdings.com
FORWARD LOOKING SAFE HARBOR STATEMENT: To the extent that this release discusses any expectations concerning future plans, financial results or performance, such statements are forward-looking within the meaning of Section 27A of the Securities Act of 1933, as amended, and Section 21E of the Securities and Exchange Act of 1934, as amended, and are subject to substantial risks and uncertainties. Actual results could differ materially from those anticipated in the forward-looking statements. Readers are cautioned not to place undue reliance on these forward-looking statements.
# # #