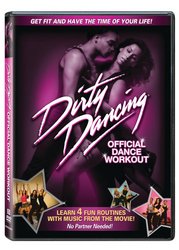 It's the first reality workout DVD. There's no rehearsal. Bob teaches the workout to the cast as I roll cameras
New York, NY (PRWEB) April 13, 2009
Exercise DVD director, producer and choreographer, Cal Pozo is celebrating his 25th year in the fitness DVD industry with top Nielsen rated "Dancing With the Stars Cardio Dance DVD" as his top selling exercise DVD ever. Pozo, a fitness video industry pioneer, has produced over 300 exercise DVD and video titles bought by an estimated 50 million consumers.
"Dancing With the Stars Cardio Dance," released in 2007, was the first title Cal Pozo choreographed for the producers of the hit show. It was followed by "Dancing With the Stars Latin Cardio (2008)" which Nielsen's Video Scan has listed among its top five sellers since its release. Other top-rated Nielsen fitness DVD's Cal has produced recently are "The Biggest Loser Weight Loss Yoga" (NBC/Reveille), and "Dirty Dancing - The Official Dance Workout" (Lionsgate Films).
Born in Cuba and living in the U.S. since 1960, Cal was a former professional ballroom dance champion and Broadway dancer, teacher and choreographer. He got into the fitness field in the late 70's after sustaining a hip injury while performing in a Broadway-bound revival of West Side Story, starring Patrick Swayze.
"I had been dancing since my early teens," Pozo explains. "After months of rehab, I could not accept the prognosis that my dance days were over. So I decided to take over my own rehab with Pilates, Yoga and weight training. In time, I started to teach exercise classes where I mixed fundamental elements of various dance forms and techniques with ones of traditional calisthenics, strength, and aerobic exercise."
Cal's own rehab, and a 40 pound weight gain and loss, prompted him to write a book: "Bunnetics - How to Reshape Your Buns"(1982-Doubleday ). It was, he admits, "a silly book about how rapidly one's former dancer's butt can go south." Within weeks of the book's release, the producers of Oprah's first
talk show (People Are Talking-Baltimore) invited Cal to be a guest on her show. Phil Donahue soon followed with an invitation to his.
Those appearances generated other fitness book contracts, and even a contract to host a series of instructional dance videos: "Cal Pozo's Learn To Dance in Minutes," a Triple Platinum video series. "Suddenly, I found myself in a whole new career where my dance and performance training came in very handy. It was as if I was meant for it all along. In a way, through fitness DVDs and videos, I've continued teaching folks how to dance and exercise."
Both "Dancing With the Stars" DVD's feature professional instructors from the show, Cheryl Burke and Maksim Chmerkovskiy, supported by a cast of dancers performing short dance workout segments based on dances like the mambo, the samba, and the merengue.
"The Biggest Loser Weight Loss Yoga," the sixth title of what has become a now three year, best-selling series, features the show's celebrity trainer, Bob Harper, supported by a cast of some of the reality show's contestants. "It's the first reality workout DVD. There's no rehearsal. Bob teaches the workout to the cast as I roll cameras," Cal explains.
"Dirty Dancing - The Official Dance Workout" shot in Miami Beach, was released in the U.K. early last year and in the US this past Christmas. The exercise DVD features dance workout routines performed to original tracks from the legendary movie.
"When I first got into this industry, exercise videos were a novelty and sold for $75 to $90 dollars," Cal recalls. "Today, the average price of an exercise DVD is $14.95, but few titles get into major stores unless they feature a known brand or celebrity. But whenever the economy has been down, sales of exercise videos have increased; they offer workout variety and plenty of great instructors at a fraction of the cost of gym memberships or personal trainers -- all in the comfort of home."
Over the past 25 years, a number of Cal's productions have introduced exercise DVD consumers to now-popular exercise systems like "Spinning" (HBO Spirit Award), and Pilates ("The Method" series). His exercise DVD productions often feature popular fitness celebrities like Denise Austin, and even media celebrities like Regis Philbin ("My Favorite Workout") and supermodel Heidi Klum ("David Kirsch's Bootcamp").
At 64 years of age, Cal Pozo still keeps up with new exercise and dance trends by participating in classes and workshops. "I feel 20!" says Cal. This past year, Cal also hosted a new ballroom dance instructional DVD series, "Partner Dancing 101" (Gaiam). He created three dance-based DVD workout programs, "DanceFit," (dancefitmedia.com), authored a new book, "Cal Pozo's Lets Dance" (Ramdon House-2008), and designed and exercise program, "The Dancers Workout," featured in Dancing With the Stars - The Book (Harper Collins-2008).
Cal Pozo lives in New York City where he operates Fitvid Productions (http://www.fitvidproductions.com), directing, producing and choreographing exercise DVDs. He divides his production time between sound stages in Los Angeles and near his second home of South Miami Beach, where he often practices Yoga with his 92 year old mom. For more about Cal and his work, please, contact Doug at Fitvid Productions, 917-270-0884, fitvid(at)aol.com or visit http://www.fitvidproductions.com.
###