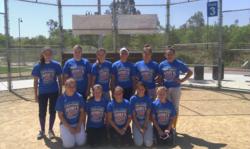 What an experience!
Rocklin, CA (PRWEB) July 19, 2012
The OBS Monarchs 14U Fast Pitch Ladies Softball team out of Oakdale, CA are no strangers to tournament play. This year they qualified to play at the Triple Crown Sports World Series in San Diego July 16-21. Raising money to get there and fully participate in all the events can be a challenge. However, part of that burden was partially eliminated by a generous contribution from Daniel Goodhall, President & CEO of CalAtlantic in Rocklin, CA. Gary Rickles, Head Coach and Business Development Manager for CalAtlantic said, "The team's parents were amazed by CalAtlantic's generosity. This sponsorship allowed the girls to participate in the opening ceremonies in front of 30,000 fans at the San Diego Padres vs. Houston Astros game at Petco Park on July 16th; it was an experience they will never forget!"
The OBS Monarchs are a Ladies Fast Pitch Softball Organization based in Oakdale, California. The OBS Monarchs were formed by Corey Reid in the fall of 2010. Corey has coached in the Northern California area for 13 years, coaching all levels of ASA play. More than 1/3 of these young ladies will go on to receive scholarships for college and all this with help and support of local businesses like CalAtlantic as well as investments from their parents. (obsmonarchs.com)
About CalAtlantic
CalAtlantic is an industry-leading Security and Management Solution Provider and Integrator. The company has provided more state of the art applied technology products and services for multiple vertical markets than any other company in the Security and Management Solutions Industry. CalAtlantic's award winning Business Management Solution InteleTraxs along with a commitment to listen, learn and understand client's needs has resulted in being selected as a National Service Provider and trusted "Strategic Partner" for many Fortune 500 companies. For additional information about CalAtlantic, please visit http://www.calatlantic.com/ or call 1-877-686-5859.