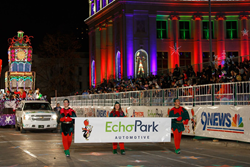 The Downtown Denver Partnership was thrilled to have EchoPark as a presenting sponsor at the 9News Parade of Lights in 2016. We value partnering with EchoPark since they have a like-minded mission of strengthening their local community
Denver, CO (PRWEB) December 23, 2016
The highly anticipated, 42nd annual 9News Parade of Lights was held on Friday, December 2nd and Saturday, December 3rd. The two-mile parade produced annually by the Downtown Denver Partnership is widely recognized as Colorado's brightest holiday tradition.
EchoPark's participation included festively decorated trucks & SUVs that towed parade floats and a representation of one of Denver's most iconic landmarks.
"The Downtown Denver Partnership was thrilled to have EchoPark as a presenting sponsor at the 9News Parade of Lights in 2016," said Sharon Alton, the organization's VP of Public Events & Activation. "We value partnering with EchoPark since they have a like-minded mission of strengthening their local community," she added.
According to 9News, the holiday tradition dates back to 1975, and has grown into the largest and most-watched parade in the Rocky Mountain region.
"We love EchoPark's enthusiasm when it comes to amazing events like this one. They share the same philosophy we have when it comes to community and philanthropy," said Paul Caldwell, Caldwell & Kerr partner.
The 9News Parade of Lights is scheduled for rebroadcast on December 24, 2016 at 3 p.m. on Channel 20 and at 10:35 p.m. on 9NEWS.
Colorado's brightest holiday tradition follows a two-mile route featuring marching bands, ornate floats, a special appearance by Major Waddles and Santa! The 42nd installation of the iconic parade was presented by EchoPark Automotive and American Furniture Warehouse. The 9NEWS Parade of Lights is produced annually by the Downtown Denver Partnership.
About EchoPark Automotive
At EchoPark® Automotive, we believe that customer service is everything. The moment you walk into EchoPark® Automotive and you're greeted by our guest services team, you will discover that we're not like any other used car dealership in Denver. If you need help exploring our selection of pre-owned vehicles, an experience guide is at your service. If you prefer to browse the park at your own pace, you're welcome to do so. Use tools like our One-Click Test Drive to quickly schedule a convenient time and place to take your next car for a spin.
We have Experience Guides not commissioned sales people. We are here to help you buy a car not sell you a car. You will feel the difference the moment you walk in to our store. Research on our iPads, watch your vehicle being serviced in our shop, let your kids talk to our technicians and ask them questions - this is unlike any automotive experience.
About Caldwell & Kerr Advertising
A Full Service TraDigital Agency. Caldwell & Kerr is the parent company of five different automotive-specific agencies that work together to serve all of your needs – from in-house production to online marketing services. We're poised and ready to handle your tier-2 or tier-3 business, and deliver big results!
Home of the Original TraDigital Agency & the #1 automotive advertising agency: Moore & Scarry Advertising, the award-winning social media platform Sparq, digital marketing powerhouse DyGen, Email Resultz and Wholesale Mail.