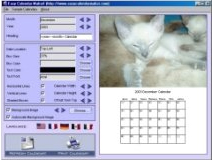 I love it! It made the perfect gift for my parents showing our newborn children! I simply added photos from my digital camera, pressed a button, and it was done! Thanks!
Los Angeles, CA (PRWEB) December 06, 2012
EasyCalendarMaker specializes in easy to use calendar maker software. As of December 2012, EasyCalendarMaker has released a special holiday edition as part of its CalendarPacks, which make gift giving fun.
EasyCalendarMaker allows users to create calendars using photographs from their digital cameras or other media. One can share photos of their loved ones and children easily by printing them off and sending them as physical gifts. It may also be used for other gifts and holidays.
EasyCalendarMaker also features CalendarPacks as part of its calendar creator software. Using one of these packs, an individual can download premade styles featuring celebrities, movies, and more. These may also be customized as a gift, for individuals with specific interests.
The Holiday version of EasyCalendarMaker allows individuals to customize their creation with specific holiday themes. Making changes is as easy as clicking a button. For more information, please visit http://www.easycalendarmaker.com/.
About EasyCalendarMaker.com
EasyCalendarMaker has been allowing individuals and businesses to make professional calendars since 2003. They also offer a reseller program, whereby individuals or businesses may purchase discounted licenses, and resell the software at a profit. For more information, please visit the EasyCalendarMaker website.