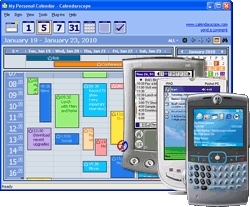 St. Petersburg, Russia (PRWEB) September 16, 2008
Duality Software has released Calendarscope 4.0, a powerful, affordable calendar and reminder application for Windows that makes it easy to plan, schedule, and manage appointments. Calendarscope is powerful enough for business managers who need to keep track of their team's busy schedules. And it is so user-friendly that families can track their birthdays, vacations, sports, and school events.
It's easy to create single or recurring events and tasks. With a single click, you can switch between daily, multiple-day, weekly, monthly, and annual views. You can even customize the way you divide each hour into individual time-slots. No matter which view you work with, it's easy to identify timed, all-day, and multi-day events.
With its intuitive icons and color-coding capabilities, Calendarscope lets you identify upcoming events at a glance. To reschedule an event, simply drag and drop it to its new space on your calendar. Use your mouse to change the duration of an event. Quickly filter tasks and events, so you see only the ones that are important. Calendarscope's search function lets you find tasks quickly. More than 30 countries' holidays are pre-coded. Many of the key features are accessible from the tray icon.
Calendarscope makes task management simple, and gives you instant access to your to-do list. It's easy to add tasks, define them as open-ended or assign them due dates, and track their progress. With one click, you can view active, complete, and overdue tasks. Turn any task into a reminder, and use a mix of fonts, colors, and sounds in your reminder messages.
The program lets you connect your Windows calendars to the outside world. Print calendars and take them with you. Save them in HTML format, and publish your calendars to the Internet or company intranet. Using Duality Software's HandySync program, it's easy to synchronize your data with your Palm OS, Pocket PC, or Windows Mobile-based devices. You can import and export data, or use Calendarscope's built-in archiving and backup capabilities. The program's 128-bit encryption blocks unauthorized access to your data.
Whether you're a business person who needs to manage a complicated set of meetings and sales trips, a student who needs to keep track of classes, term papers, and projects, or a home user who wants to keep track of the kids' school events and birthdays, the calendar program has the tools that you need.
Version 4.0 includes a number of enhancements requested by our current customers and powerful new features, including the ability to customize any view and print style; the ability to insert formatted date and time into text fields; the ability to show work time only, improved holiday processing; and the ability to synchronize your calendars between your desktop and Windows Mobile-based smartphones.
Calendarscope 4.0 runs under Windows 9x/Me/NT4/2000/XP/2003/Vista/2008 and costs $39.95(US) for a single-user license. Multi-user discounts are available. You can download a free, fully-functional trial version from http://www.calendarscope.com/.
Synchronization programs are available for Palm OS, Pocket PC, and Windows Mobile-based handheld devices. For more information, please visit http://www.dualitysoft.com/.
Evaluation Copy Available on Request
About Duality Software:
Since 1998, Duality Software has been developing and marketing Windows productivity software for business and home users. In ddition to Calendarscope, the company offers Calendarscope Network Edition, a product for team work; HandySync, a set of programs for the Palm OS, Pocket PC, and Windows Mobile that ensure that the Calendarscope information on your desktop is synchronized with handheld devices; xReminder Pro, a handy reminder program that keeps track of one-time and recurring events; and DS Clock, a free customizable time display program that lets you synchronize your computer with atomic time servers worldwide.
###