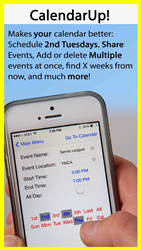 Are you tired of counting the weeks on your calendar to schedule your next haircut? CalendarUp will tell you the date, show your current events, and allow you to add an event around that date
Glen Rock, PA (PRWEB) November 05, 2014
Laura Garrison, an iPhone app developer, is proud to announce that her first two apps are now available from the iTunes store. The first, originally called CalendarUp, was released in June, 2014. Since then, Garrison has added major features such as event sharing and custom alerts to the app, and it was re-released through iTunes in October with the new name Calendar Upgrade. In November, CalendarUp Free, a lite version, was released.
In addition, Garrison just launched a user-friendly website that explains how the innovative app works and how it can help people keep track of their schedules.
As busy people know quite well, iPhone calendars don't always make it easy to add and modify events. From repeating events like kids' sports tournaments and work meetings to school events, parties and more, it can be difficult to get everything loaded.
This is where Garrison's two apps, Calendar Upgrade and CalendarUp Free, can help; by allowing people to quickly add custom repeating events, as well as add, search, delete and replace multiple events at once, they can save time updating their calendars. In Calendar Upgrade, offered for only $1.99, they can also send events through email and add custom alerts.
"Are you tired of counting the weeks on your calendar to schedule your next haircut? CalendarUp will tell you the date, show your current events, and allow you to add an event around that date," Garrison explained, adding that app users can also view their current events in a handy table.
"I added my daughter's entire volleyball schedule by selecting all of the days on a calendar grid and hitting one button. I then used the replace feature to add the location as 'home' for all of the home games."
About Calendar Upgrade and Laura Garrison:
Laura Garrison, a new iPhone app developer, recently released her first iPhone app. Called CalendarUp, it was released in June and its first upgrade, now called Calendar Upgrade, was released in October, 2014. A lite version, CalendarUp Free, was released in November. In addition to app development, Garrison teaches engineering courses. For more information, please visit http://www.calendarup.net/