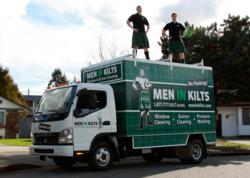 Our amazing team is proud to join forces with Men In Kilts, the enigmatic brand really exemplifies our values of being Honest, Trustworthy and Professional.
Calgary, AB (PRWEB) April 19, 2012
Men In Kilts Calgary window cleaning is celebrating its grand opening launch by cleaning windows while wearing tartan kilts this Saturday in downtown Calgary. This will be the seventh franchise for the rapidly growing Men In Kilts franchise.
The company, whose professional, trained technicians complete a variety of household chores including window cleaning, gutter cleaning, pressure washing, snow removal, carpet cleaning and blind cleaning, arrives as part of a partnership with another trusted Calgary brand; Window Works. Window Works - who for 20 years has been the preferred Calgary window and exterior cleaning company - is joining forces with Men In Kilts, to become Canada's largest window cleaning company. Window Works has won numerous Consumer Choice Awards, maintains an A+ BBB rating, and has served almost 50,000 customers.
Chris Carrier, Window Works Founder and CEO, says, "Our amazing team is proud to join forces with Men In Kilts, the enigmatic brand really exemplifies our values of being Honest, Trustworthy and Professional."
Staff and managers at Calgary-based Window Works are being retained by the company, and new technicians are joining the team as the busy spring and summer seasons draw near.
Carrier is certain that the blend of the two companies, Window Works with a 20 year history of success, and Men In Kilts, with its 10 year history of creating community and media buzz with their engaging kilted uniform, will be a winner with Calgarians. By the end of the year he expects to have a Kilt Crew in Edmonton as well. Adding fuel to the tartan fire is the CEO of Men In Kilts Franchise Services, Tressa Wood, who was a key member of the team that brought 1-800-GOT-JUNK? into hundreds of markets across the globe.
To celebrate their launch, Carrier and his Kilt Crew will be cleaning windows on Stephen Avenue this Saturday, April 21, 2012, from Noon until 2:30 p.m. All Calgary residents and media members are welcome.
-30-
Media Opportunity:
Saturday, April 21, 2012
12 Noon – 2:30 p.m.
Stephen Avenue – from Olympic Plaza to Fifth Street SW.
Interview Opportunities: Chris Carrier, CEO; Kilt Crew members in uniform.
Image and video opportunities: Kilt Crew members in uniform cleaning windows, climbing ladders, interacting with the general public – just remember, no peeking!
About Men In Kilts
Men In Kilts was started in 2002 by Nicholas Brand with $500, a squeegee, and a hand-sewn kilt. The first franchise was opened in 2010 in Vancouver, B.C., with Fraser Valley, B.C., Seattle, Wash., and Calgary soon to follow. Men In Kilts' commercial and residential services include:

gutter cleaning
pressure washing
exterior building cleaning
snow removal services will be available in all colder markets later this year
Men In Kilts plans for fast expansion into all major cities across North America, including Toronto, San Francisco, LA, and Denver. The company projects a 300 percent increase in system-wide revenue in 2012.
For more information on Men In Kilts, or to see them in action, please contact Melissa McAfee at pr(at)meninkilts(dot)com or visit http://www.meninkilts.com.
--high resolution images available upon request--