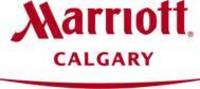 Our success as a company relates directly to our people and their level of engagement. We are so proud to be recognized by both the industry and our associates for our efforts in providing the best possible work environment where associates can develop and grow their careers. This designation will continue to help us attract and retain the best talent in our industry
Calgary, Alberta (PRWEB) March 18, 2009 -
The Calgary Marriott is the proud recipient of a 2009 Employer of Choice Award from the Alberta Hotel & Lodging Association (AHLA). This is the second consecutive year that the Calgary hotel has received the prestigious award.
The Calgary Marriott has received the awarded because of sound human resources practices in the areas of organizational effectiveness, development and training, staffing, compensation, employee relations, workplace health and safety and HR information management.
"I am truly honoured to receive the 2009 Employer of Choice Award," says Joseph Clohessy, General Manager of the Calgary Marriott. "This award is a testament to the hard work and dedication of our associates, and positive working environment we have at the Calgary Marriott."
"Our success as a company relates directly to our people and their level of engagement. We are so proud to be recognized by both the industry and our associates for our efforts in providing the best possible work environment where associates can develop and grow their careers. This designation will continue to help us attract and retain the best talent in our industry," says Rayna Weatherald, Director of Human Resources at the Calgary Marriott.
The Calgary Marriott is conveniently located in downtown Calgary, close to major attractions and businesses. The guest rooms showcase LCD HD TV's, High Definition channels and wireless internet. Enjoy luxurious bedding and beautiful views of the vibrant city. For more information on the Calgary Marriott, visit: http://www.calgarymarriott.com.
Calgary Marriott Information:
With a convenient location near eclectic shopping, fine dining, and world-class corporations, our Calgary Marriott hotel is ideal for both business and leisure travel. Relax in the largest downtown Calgary hotel, and enjoy the utmost hospitality. Our newly renovated accommodations showcase floor-to-ceiling windows, plush, brand-new bedding, and unobstructed views of the vibrant metropolis. One of the best downtown Calgary hotels, we blend attentive hospitality with brilliant amenities including our LCD HD TV's. Sip your favorite latte at Starbucks, or savor a deluxe breakfast buffet at Traders Grill. Host an unforgettable meeting or event in more than 4,000 square feet of flexible function space - perfect for weddings, banquets, and corporate gatherings. From our indoor swimming pool and dedicated concierge to a full-service, 24-hour business center, we offer the most amenities among Calgary Alberta hotels. Feel confident booking your Calgary hotel reservations with Marriott's Best Rate Guarantee.
###