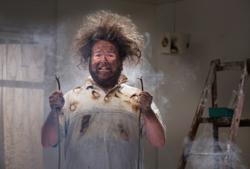 From front to back, whether delivering laughs or information, this is a website that sets a high standard for other electricians in the Calgary area.
Calgary, AB (PRWEB) September 25, 2012
4 Star Electric's intent with their new website is to comment on a worrisome trend among homeowners. In this day and age, where many people feel they can simply Google the solution to their problems, more and more people are attempting professional repair jobs without the help of an actual professional. In some cases it is harmless enough for homeowners to apply their quick fixes, but when it comes to a home's electrical system a professional should always be involved. The picture on the site shows in a very light hearted tone just how dangerous wiring a home can be for someone without the proper training.
The website goes on to enumerate many of the do's and don't's of working with an electrical contractor, a goal of the Calgary Electrical Company is to not only to provide potential customers a site where they can learn about 4 Star Electric's service but to provide a site where people can come and inform themselves about the do and don'ts within the industry.
A lot of the focus is on making sure that the client understands their problem, knows what tools they have at their disposal, and is fully aware of what they can expect should they decide to call. There are articles that describe what to look for in the best electrical contractors, what to do to prepare a home for a visit from the electrician, as well as a series of questions that a client should ask an electrician before they hire one.
This is a big step forward, not just for this individual company, but for all the electrical contractors of Calgary. Whoever stumbles onto this website is going to receive a crash course in how to work with a contractor, and the more of this information that's in circulation, the better.
From front to back, whether delivering laughs or information, this is a website that sets a high standard for other electricians in the Calgary area. There's no question that this site will have appeal to many different demographics, and most importantly it will bring a little levity to a situation where most people are going to be in a somewhat anxious and stressed-out frame of mind. That alone is likely enough to bring this company a few clients.
One of the pieces of advice offered by 4 Star Electric for their clients is to always examine the reputation of a new electrician before they hire them. In an Internet age, this has become easier than ever, as a new client can simply use local business listings and even search engines to find customer reviews and client feedback on the business in question.
This feedback very often proves invaluable as it allows a person to see how someone much like themselves has experienced the electrical company's service, and will often provide a stark warning if a contractor has been doing shoddy work, not backing up their guarantee, or failing in the customer service department.
If anyone were to take a brief look at 4 Star Electric's reputation they would see that this company has been doing excellent work in Calgary for a number of years now. Their exemplary work is backed up by a very inclusive guarantee that lasts up to three years, good for any repair job. This has many of their clients being quite vocal about their appreciation for the work they've received.
The business model for 4 Star Electric seems to be heavily focused on customer satisfaction and customer relationships. A new client's satisfaction is something this company seeks to create and preserve at all costs, and to that end the electrical company makes many allowances for clients to rate their services, make their feelings about the repair job known, and engage in constructive feedback so that their service can improve.
The more that a new customer looks through 4 Star Electric's new website, the more that they will discover. Not only will the client learn a few things about the state of the electrical contractor in Calgary, and how to ensure they can find the best help possible, they'll also learn about the company itself, an outfit that sets an extremely high standard for electrical repair work in the Calgary area.