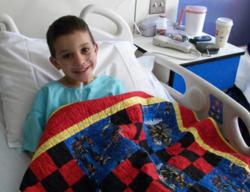 I'm really touched by the generosity and kindness of those at Calico Corners. With their help, we can deliver quilts to so many more sick children who are missing family and friends.
(Vocus/PRWEB) March 09, 2011
Quilts for Kids, Inc. will become a more efficient operation with the donation of shelving and cutting equipment from Calico Corners – Calico Home. Through 2011, every order of custom bedding purchased at Calico will trigger a donation to help volunteers make quilts for sick children.
Quilts for Kids, an organization that has donated tens of thousands of hand-crafted quilts to children with serious illnesses, has a high-class problem: they have become so successful since they were founded by Linda Arye ten years ago in southeastern Pennsylvania that they had to move into rented space last fall—but aren't yet operating as efficiently as needed in the expanded space. QFK board member Dean Shull of Sunbury Textiles in Sunbury, Pennsylvania thought he knew some other industry players who could help solve that problem: the folks at Calico Corners – Calico Home, the national retailer headquartered not far away in Kennett Square.
When Roy Simpson, Jr., president and CEO of Calico Corners, and Julie Morris, director of custom labor programs, visited Linda Arye at Quilts for Kids, Inc. headquarters recently, they were bowled over. "All it took was a tour of their facility and a documentary about the volunteer quilters to show us that this is a cause we want to support," stated Morris. "The impact these quilts have on thousands of sick, injured or abused children is heart-warming, as the kids usually can't have stuffed animals in the hospital due to allergy issues." A hand-made quilt, reflecting the child's special interests, is a gift of comfort and joy that goes with them to chemotherapy, physical therapy, doctors visits—and hopefully, follows them home some day.
Roy Simpson saw clearly that operations at the new Quilts for Kids headquarters in Fairless Hills, Pennsylvania could run more efficiently with new shelving and fabric-measuring and cutting equipment. "I knew that Calico Corners could provide this quickly," said Simpson. "More efficiency will help Linda and her foundation reach more children, and that's what it's all about." Calico Corners is providing fabric racks for storing the fabrics, shelving to stage quilting kits and finished quilts, as well as a special table for rolling, measuring and cutting fabrics.
"I'm really touched by the generosity and kindness of those at Calico Corners," said Arye. "With their help, we can deliver quilts to so many more sick children who are missing family and friends. Wrapping a simple patchwork quilt around a child really is comforting during a long hospital stay."
Until last fall, Quilts for Kids was run out of Arye's dining room and guest room. She started the organization in 2000 to keep fabric seconds, overruns, samples and discontinued yardage from ending up in landfills or sold as pound goods. "We've repurposed many millions of yards of fabric," noted Arye. "And while we're also buying fabrics now, our volunteers have sewn quilts that are distributed through hundreds of children's hospitals, medical centers and hospices in this country and abroad. Each one is made with love and signed by the quilter."
"The journey that these quilts take to reach children all over the country is so inspiring," added Morris. "Calico Corners has created a partnership with Quilts for Kids and we will make a donation for every custom bedding order placed in 2011. Whether a customer is shopping in one of our stores or working through an in-home design consultant, these donations will help fund the purchase of novelty children's prints used to make quilts for children in need around the country."
"We were able to deliver quilts and put smiles on the faces of 26,000 children in 2010," said Arye, "and we hope to double that number soon!" Over the course of a year, about six million children are hospitalized, added Arye. "We're trying to wrap as many as possible in a hand-made quilt. Our volunteers really want to help us reach that goal."
Calico Corners – Calico Home stores provide expert decorating advice and free in-home design consultation in more than 90 stores across the country. Consumers will find thousands of designer fabrics for the home at value prices; custom window treatments, blinds and shades; custom upholstered furniture, slipcovers, bedding and more. Thousands of fabrics are available online. For more information or to find the nearest store, visit http://www.calicocorners.com or call (800) 213-6366.
"The Gift of Comfort." In this video sponsored by the Downy Touch of Comfort program, "Grey's Anatomy" star Chandra Wilson joins founder Linda Arye and volunteer crafters for Quilts for Kids to deliver quilts—designed and sewn for each child—to hospitalized children at Texas Children's Hospital. (7:53).
http://www.youtube.com/watch?v=igraIvlADEs&feature=player_embedded
###