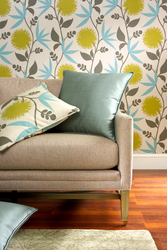 We want to make a designer's life easy
(Vocus) April 1, 2009
Interior designers can now reap even greater rewards when they source fabrics and furnishings from nationwide retailer Calico Corners - Calico Home. Effective immediately, registered designers earn Designer Rewards gift certificates when their sales top $10,000 annually--in addition to receiving a 15% discount on 5,000+ designer fabrics every day.
To celebrate this new program, participating Calico Corners - Calico Home stores are offering guided tours for designers only from Monday, April 13 through Saturday, April 18. "What's new in design is what's new at Calico," says Jan Jessup, director of communications. New this season are trendy graphic prints, hundreds of upholstery fabrics, printed English linens and Italian velvets, luxurious European mohair and Kashmiri crewels. Performance fabrics such as Sunbrella and Sensuede are also offered. Designers are invited to drop by for a tour at their local store or to call for an appointment. Designers will also receive special discounts on purchases during Designer Week, including 20% discounts on all fabrics.
"Fabrics at Calico every day are typically priced below a designer's wholesale cost from jobbers and to-the-trade showrooms before your designer discount is applied," says Jessup. "And now if you purchase $20,000 annually, you'll also earn $1,000 in gift certificates along with getting a great discount. It's our way of helping designers maximize their return in challenging times. Sourcing fabrics from Calico allows a designer to spend more in other areas--carpets, wall coverings and so forth. Clients appreciate a designer who can stretch their budget."
Gift certificates start at $500 and increase in increments of $250--with no limit. Designers purchasing from Calico enjoy everyday discounts on fabrics, furniture and labor for window treatments, bedding or other custom products. Fabric samples can be borrowed from stores or ordered free at http://www.calicocorners.com. "We want to make a designer's life easy," says Jessup. "We'll pull samples for your projects, measure and install window treatments, and our furniture is delivered and set up in your client's home free of charge. We take care of the details and stand behind our workmanship 100% so that you can focus on your client and creating a beautiful room." Designer applications are available in participating stores or online.
Known for 60 years as the retail leader in custom decorating, Calico now offers thousands of fabrics online, so a designer anywhere in the country can benefit. Top designer fabrics from such masters as Ralph Lauren, Annie Selke and Thomas Paul are offered--with many styles represented, from traditional and classic to fresh and modern.
"Our selection today will surprise you," says Jessup. "A visit to Calico is like a trip around the world."
Calico Corners - Calico Home stores provide expert decorating advice in more than 100 stores across the country. Consumers and designers alike will find thousands of designer fabrics for the home at value prices; custom window treatments, blinds and shades; custom upholstered furniture and more. Thousands of fabrics are available online. For more information or to find the nearest store, visit http://www.CalicoCorners.com or call (800) 213-6366.
###