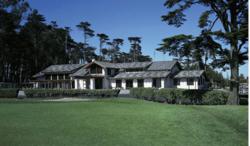 We are offering our sumptuous brunch buffet along with live jazz music
San Francisco, CA (PRWEB) May 05, 2012
It is not too early to make reservations for Mother's Day. This year, consider joining The Presidio Café, San Francisco's venue for California cuisine and event spaces, for its special Mother's Day brunch on May 13.
"We are offering our sumptuous brunch buffet along with live jazz music," Michael Perry of The Presidio Café said.
Reservations for the Mother's Day Brunch are available from 10:00 a.m. through 2:30 p.m. Each plate is $42 per person for adults, plus tax and gratuity; $18 per person for kids 6 through 12, plus tax and gratuity; and free for kids 5 and under. These prices include all food and non-alcoholic drinks.
Chef Chris Brown will delight mothers and families this day with her focus on comfort foods, while maintaining creativity and her passion for clean flavors and local ingredients. Large families may even consider reserving an event space in the banquet hall.
For reservations, please call 415-561-4661, ext. 209.
For more information about upcoming events or any of The Presidio Café's products or services, call 415-561-4600, view the restaurant on the web at http://www.presidiocafe.com or visit the legendary Presidio Golf Course at 300 Finley Road in San Francisco.
About The Presidio Café
The Presidio Café offers American comfort food with a California flair in a casual club environment. The cafe features a selection of delicious food, coffee drinks and a full bar of more than 75 whiskies, draft beers and wines. The Clubhouse, with its charming views of San Francisco, serves as an ideal venue for weddings and other special events. Whether it is an intimate gathering of 12 or a formal dinner of 200, the Clubhouse and The Presidio Café are sure to provide hospitality and service to satisfy all the guests.