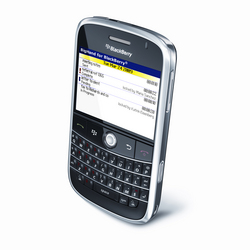 Chicago, IL (PRWEB) July 17, 2009
Ropers, Majeski, Kohn & Bentley (RMKB), based out of Redwood City California, today announced the firm is rolling out BigHand voice productivity software to 200 users across their network of six offices, incorporating the BigHand for BlackBerry® Smartphone mobile app.
David Broderick, RMKB, Director of Operations, commented:
"In the current economic climate, it is particularly important to analyze and utilize technologies in an effort to control overhead while also supporting the billing efficiency and increased workload of our attorneys. Since all attributes need to work hand-in-hand in this new commercial landscape, finding concrete evidence of technologies that provide effective solutions can be a challenge. While monitoring the market, time and again BigHand software demonstrated the ability to pay for itself quickly, expedite document production, and help attorneys with their daily workload -- especially while on-the-go. We look forward to experiencing these benefits first hand as the software rolls out in the coming weeks and months."
In the last few months alone US law firms Bamberger, Foreman, Oswald, and Hahn, LLP and Becker & Poliakoff, P.A. have announced strong ROI from BigHand projects; plus leading Canadian law firms McCarthy Tétrault LLP and Stikeman Elliott LLP have reported major new BigHand installations. BigHand for BlackBerry® also achieved Sprint Certification in May 2009, and the Enterprise Edition is now being resold into the North American legal sector by CDW Corporation, ranked No. 34 on Forbes' list of America's Largest Private Companies. BigHand voice technology is now used by over 800 organizations globally.
Contact:
Dan Speed, VP Marketing, BigHand. Email: dan.speed@bighand.com
About BigHand:
BigHand is based out of Chicago, London, Sydney and Toronto. BigHand is the leading voice productivity application in the professional services community. BigHand was awarded 'Best of Breed System of the Year' at the Legal Technology Awards for 2008, and BigHand for BlackBerry® Smartphones was voted 'Mobile Product of the Year' at the CNET Business Technology Awards 2008. BigHand was also nominated in the Sixth Annual Law Technology News (LTN) Awards for 2009 as 'Dictation System of the Year' and 'Mobile Tool of the Year'. Further information is available at http://www.bighand.com.
###