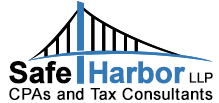 California has an innovative program of enterprise zones that provide possible tax relief to California businesses
San Francisco, CA (PRWEB) May 24, 2013
Safe Harbor LLP, a top San Francisco CPA Firm, and Tax Alliance Group, an innovative California provider of tax credit solutions, are proud to announce an informative article on enterprise tax zones in California. The state currently has 42 enterprise zones, providing possibly valuable tax benefits to California banks and corporations.
"California has an innovative program of enterprise zones that provide possible tax relief to California businesses," explained Chun Wong, Managing Partner at Safe Harbor LLP. "However, many businesses are just not aware of what enterprise zones are and how they can provide substantial tax benefits. Tax Alliance Group is an expert in this issues, and so we reached out for an article by the Tax Alliance Group informing businesses on this important opportunity."
For more information, go to:

Enterprise Zones in California and Tax Savings for Businesses
Banks and corporations doing business in California often overlook the tax incentives available to them for operating in an enterprise zone. Currently, there are 42 enterprise zones in California. Enterprise zones are geographic areas within which businesses are eligible for certain tax incentives. Those incentives are designed to stimulate business investment and translate into meaningful California tax savings opportunities. However, many businesses in enterprise zones are not taking full advantage of the incentives available to them. Some businesses find the incentive requirements too burdensome or intrusive to satisfy, while others are tripped up by regulatory policies. This article highlights three pro- business incentives available to banks and corporations operating in a California enterprise zone and focuses on how those businesses can pursue these three opportunities.
IRS Circular 230 Notice
The Internal Revenue Service requires Safe Harbor LLP to inform the reader that any tax advice contained in this correspondence cannot be used for the purpose of avoiding penalties under the Internal Revenue Code or for promoting, marketing or recommending to another party any transaction or matter addressed.
About Tax Alliance Group
Tax Alliance Group provides turn-key tax solutions to CPAs and businesses. By focusing exclusively on value-added tax services that complement traditional tax and accounting practice, the Group always deliver quantifiable benefits to clients. They will help businesses determine which tax programs benefit their clients and are committed to handling each client relationship with care and diligence. The ability of Tax Alliance Group to work seamlessly with any team is the reason so many CPAs across the nation trust them with their clients.
Tax Alliance Group
Tel. (424) 235-0525
About Safe Harbor LLP – a Professional CPA Firm in San Francisco
Safe Harbor LLP is a CPA firm that specializes in accounting and tax services for individuals and businesses throughout the San Francisco Bay Area and greater California. Safe Harbor CPAs helps both individuals and businesses with tax preparation, IRS audit defense, and audited financial statements. The firm prides itself on friendly yet professional service and utilizes state-of-the-art Internet technology to provide quality customer service.
Safe Harbor CPA
Tel. 415.742.4249