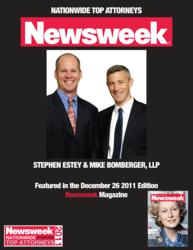 San Diego, California (PRWEB) January 05, 2012
The California personal injury law firm of ESTEY BOMBERGER (http://www.esteyandbomberger.com) was recently one of 25 law firms featured in Newsweek's Nationwide Top Attorneys Showcase. The Nationwide Top Attorneys Showcase feature was designed to feature top law firms that specialize in particular areas of litigation, such as catastrophic personal injuries and defective products.
The Top Attorneys feature was included in the December 26, 2011 / January 2, 2012 Newsweek Double Issue, which also featured a story on Meryl Streep and her role as Margaret Thatcher in the upcoming film "The Iron Lady", as well as an interview with Vice President Joe Biden, and stories of US Soldiers returning home from deployment in Iraq.
The Newsweek feature comes several weeks after the Consumer Attorneys of San Diego selected Estey Bomberger founding partner Stephen Estey as the recipient of the organization's prestigious 2011 Trial Lawyer of the Year Award.
Also in 2011, Stephen Estey was selected by his peers for inclusion in The Best Lawyers in America® 2012. Estey was also given a "Top Ten Attorney" status from the San Diego Daily Transcript this year, based on a peer review voting survey to determine the most qualified attorneys in San Diego County. Both founding partners Stephen Estey and Mike Bomberger were selected for inclusion in the 2011 San Diego Super Lawyers, given to less than 5% of practicing attorneys. Estey and Bomberger were also both selected by the National Trial Lawyers as two of the 100 Top Trial Attorneys in the State of California.
Estey Bomberger has obtained numerous impressive recoveries for the firm's clients, including a $30 million verdict for sexual abuse handed down by a Santa Clara County, CA jury in August, 2010 (Case No. 106CV070642 - Santa Clara County), and an $11 million verdict for a fall injury at a construction site, handed down by a Riverside County, CA jury in September, 2011 (Superior Court of the State of California for the County of Riverside, Case No.: RIC526139, Brian Richeson v. Tovey/Schultz Construction, Inc).
"It is a great honor to be featured in one of the most respected news publications in the nation," said Mike Bomberger, founding partner of Estey Bomberger. "We were very grateful for the opportunity to be featured in the magazine."
About Estey Bomberger
The California injury lawyers at Estey Bomberger represent victims of serious injury and wrongful death due to the negligence or willful misconduct of others. The attorneys have successfully handled many complex and challenging cases against individuals, corporations and governmental agencies. For more information, visit http://www.esteyandbomberger.com or http://www.california-injury-lawyer-blog.com.
# # #