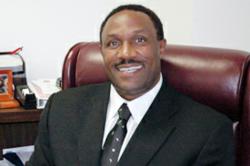 The focus of the Asia Desk Business Series was on exploring business opportunities in Vietnam, with Dr. Menja discussing the country's historical influences that impact it today.
San Diego, CA (PRWEB) December 15, 2011
California Miramar University President Dr. Mwenja recently addressed the World Trade Center San Diego. The focus of the Asia Desk Business Series was on exploring business opportunities in Vietnam, with Dr. Menja discussing the country's historical influences that impact it today. Many San Diego business leaders were in attendance, including manufacturers, investors, traders, importers and exporters, legal associates and representatives from the tourism industry. The event was hosted by the Asia Desk Business Series & Cross Cultural Communication Department.
San Diego business leaders are interested to learn more about doing business with Vietnam because Vietnam is one of the fastest growing economies in the world. The largest number of businesses in 2009 were in construction, followed by manufacturing, generation and distribution of electricity, and telecommunications.
Dr. Mwenja addressed the historical influence that affects Vietnam today. Vietnam has had influence of the Chinese (1,000 years), the French (100 years) and Americans in the South. All three have had a significant influence on Vietnamese culture and it is evident between the different business cultures of the north and the south. The last 15 years have ushered in an era of materials and cultural awareness that distinguishes the young generation from their parents and grandparents.
Dr. Mwenja is the President of California Miramar University. He has been active in academia, consulting and entrepreneurship over the last 25 years. His areas of specialization are strategic management, social networks, entrepreneurship, and leadership. He has consulted heavily for different industries including credit unions, restaurant chains, telecommunications companies, and governmental agencies both in the United States and in Asia.
As an entrepreneur, Dr. Mwenja has started and operated many businesses, including import/export, retail, wholesale, management training and staffing, business development, and non-profit organizations.
Dr. Mwenja received his MBA from Murray State University in Murray, Kentucky and his Doctor of Business Administration in Strategic Management from Marshall Goldsmith School of Management at Alliant International University in San Diego, California.
Because of the university's commitment to international education, California Miramar University is proud to offer a Masters in Business Administration – International Business. Dr. Mwenja leads California Miramar University in its mission to educate and inspire tomorrow's global business leaders. The university's methodology is to combine relevant and applicable curriculum with real world business scenarios. CalMU's management and leadership courses have been carefully designed to develop the qualities, skills, and know-how required to enhance managerial effectiveness and team productivity.
About CalMU
California Miramar University's School of Business & Management is one of the Top 10 MBA Schools in San Diego, California, as ranked by the San Diego Business Journal. California Miramar University is accredited by both ACICS and DETC. CalMU's Miramar Campus is located just twenty minutes from downtown San Diego.
In addition to its MBA programs, California Miramar University (CMU) offers Associate, Bachelor's, Master's and Doctorate degree programs in Business Administration. The diverse student body comes from across America, around the globe, all branches of the armed forces and veterans of the US military.
If you would like more information about this topic or to schedule an interview with California Miramar University, please call 858-653-3000 x12 or email info(at)calmu(dot)edu
###