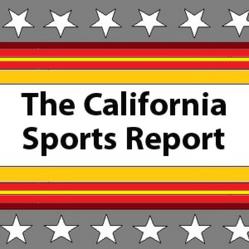 (PRWEB) May 12, 2013
The news that The California Sports Report is only one simple click away at TCSReport.com has prompted hundreds of sports fans to make their way to the site in recent days. The show is sponsored by TicketProcess.com, a major player in the online ticket exchange business.
TCSR was created and is hosted by Skye Dickenson, a sportswriter, author and artist out of Northern California. Among other things, he has become known for regularly suggesting that robots and various modern electronics should take the place of human judges in pro sports, specifically in place of MLB umpires and NFL referees. Some shows begin with an original poem read by Dickenson, always in the form of rhyming couplets or quartets.
The format of this weekly sports radio show allows Dickenson and his two co-hosts to present unfiltered takes on a wide array of topics, and the fast-paced hour is full of analysis, predictions and questions that typical sports shows aren't creative or gusty enough to cover. Show topics spark sometimes wacky and always entertaining discussions, and everything from the best 5-tool player in MLB history to the best athlete-turned-actor are covered on a weekly basis.
The California Sports Report is co-hosted by Lindol French and Al Grotewohl, two sportswriters who tackle topics from noticeably different angles while often arriving at similar conclusions. French is the guy who everyone would love to have a beer with – easily approachable, supremely comfortable in his skin and deeply attached to his favorite teams. Grotewohl is honest and heartfelt with his words and long in his research. The youngest of the trio by a full decade, his youthfulness is both a source of playful ridicule and a refreshing perspective. Both are a great compliment to Dickenson's easy-going yet fast-paced style. The California Sports Report can be heard anytime by paying a visit to TCSReport.com.