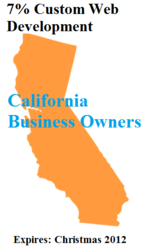 Clients walk into the retail shop at 3550 Wilshire, Los Angeles, California and are greeted by a warm staff, well lit Christmas tree, Whiteboards and a plethora of ideas ready to help you grow your business.
Los Angeles, California (PRWEB) December 17, 2012
A unique website development firm in Los Angeles is taking a hands-on approach to graphic design and programming. Fouts Ventures, a software and web development firm, welcomes clients into a retail web development shop at 3550 Wilshire Boulevard. Clients are greeted by a warm staff, a well-lit Christmas tree, whiteboards for brainstorming, and a plethora of ideas about bringing websites to life.
This Christmas, Fouts Ventures is empowering small businesses and corporations to boost their holiday sales. With special pricing on a variety of services, Fouts Ventures encourages local business owners to stop in and work with design teams to create print marketing pieces (1).
Each year, the Fouts Ventures retail shop hosts a networking event to welcome the vibrant Los Angeles community. In years past, the annual party has attracted business people and neighbors from the surrounding Koreatown area. Lunch is provided by local restaurants like Papa Cristos and Trimana Cafe. Fouts Ventures provides coupons, discounts and games for everyone in attendance (2).
Founder Matthew Fouts explains, "When people hear 'web development,' they usually think of a programmer hiding behind a computer monitor. Part of the reason I started this company was to help educate people about using the web and involve them in the process of building and marketing a website. The retail shop is a great way to do that--it lets us meet face-to-face with folks and really talk about what kind of site they need and how we can help them accomplish it. I'd never do it any other way."
###
Press release by Fouts Ventures. Questions or comments about this press release contact the Fouts Ventures Editorial Staff at 1-800-277-5221 or Fouts Ventures Support via Twitter, https://twitter.com/foutsventures
(1) Fouts Ventures California Website Development http://www.foutsventures.com/usa/ca/website-development/
(2) Fouts Ventures Annual Party http://www.foutsventures.com/Marketing/los-angeles-fouts-ventures-party