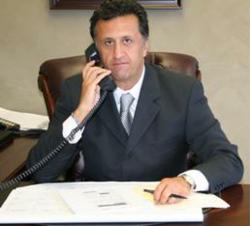 Los Angeles, CA (PRWEB) October 18, 2011
Whether they know it or not, every driver in California is a part of the point system that tracks their driving history. This complex system is used by the DMV, courts, and even insurance companies to decide the safety and eligibility of every driver. This is why Amir Soleimanian, Los Angeles traffic ticket attorney is now warning Californians to keep points off of their record and lending a hand to help them accomplish this.
Many drivers will have to deal with the point system at one point or another. This is why traffic ticket lawyer in Los Angeles, Mr. Ticket, is now offering his services to drivers in Southern California and warning residents against letting their points go unnoticed.
Some offenses, such as a red light ticket or other moving violations, will put a single point on a license for as long as three years. Other penalties come with multiple charges of single point offenses or two-point tickets.
Both the DMV and insurance companies take two-point tickets very seriously. Drivers may find themselves with two points from a DUI, DWI, hit and run, reckless endangerment, or driving on a suspended drivers license. Mr. Ticket is warning drivers to not let these points be placed on a license without a fight. His experienced legal team specializes in DMV point reductions and removals that will save drivers time, money, and energy. Insurance companies have the right to check their customer's driving records at any point to raise or lower insurance premiums. With only a 10 day period to begin fighting most charges, it is important for every driver to act the moment that they have received their tickets.
Mr. Ticket has the experience and resources to fight all types of tickets ranging from infractions to felonies. For drivers that are in danger of losing their license or having their insurance rates spiral out of control, there has never been a better time to act.
Visit http://www.4mrticket.com for more information about the services provided at the Law Offices of Amir Soleimanian. You may also call (866) 780-1234 or visit their office at 16633 Ventura Blvd Suite 503 in Encino, CA 91436.
PR by AvitalWeb, SEO Company
###