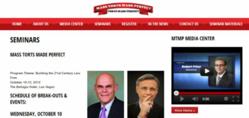 (PRWEB) October 08, 2012
Deborah Schweizer, attorney and partner of Clapper, Patti, Schweizer & Mason (CPSM), will attend the Mass Torts Made Perfect Seminar in Las Vegas, Nevada from October 10-12, 2012. The Seminar will kick off at 12:00pm and cover multiple areas pertinent to CPSM's practice, including the latest updates on transvaginal mesh litigation, metal on metal hip replacements, and other defective medical devices and drugs.
This is the 11th year of the Mass Torts Made Perfect (MTMP) seminar, held every April and October at the Bellagio Hotel in Las Vegas. During this three day conference, prominent trial lawyers and political analysts will gather to share experiences with plaintiff's attorneys to discuss various aspects and recent legal developments in mass torts litigation, including securities and business torts.
Ms. Schweizer says, "I attend these conferences to stay abreast of latest legal developments knowing this allows me to offer the best representation to our clients. In this time where certain forces are threatening our Constitutional right to trial by a jury of peers, it's essential to strategize and collaborate with other dedicated attorneys to ensure that right isn't taken away."
For more information on the conference or to register, visit http://www.masstortsmadeperfect.com/seminar/.
For more information about Clapper, Patti, Schweizer & Mason, visit http://www.mesothelioma-attorney.com or call 1-800-442-4262.
Clapper, Patti, Schweizer & Mason (CPSM), California Attorneys at Law
The nationally recognized California law firm of Clapper, Patti, Schweizer & Mason has been fighting for the rights of injured victims for more than 30 years, and their experience makes a difference in the care and competency they offer clients. If you have been injured by a defective product or medical device or as a result of exposure to asbestos, the experienced attorneys at CPSM will fight for your right to fair compensation and retribution.