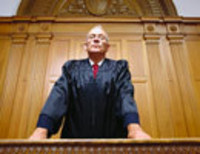 Los Angeles, CA (Vocus) May 20, 2010
Web video is continually becoming a more important for presenting information and introducing people, products and services. This is as true for attorneys and legal services as it is for any other group today, and perhaps in no other state is it as important to offer video introductions for lawyers than in California, a leader in developing and utilizing Internet technology. LegalTube.com's California attorney videos section is filled with attorney videos that both inform and educate the viewer about various legal matters while simultaneously introducing California attorneys and demonstrating their legal expertise.
The California attorney section includes attorneys practicing all aspects of the law, such as business, criminal, estate planning, immigration, personal injury, real estate, wills and workers' compensation law. Visitors to the site may easily view Los Angeles attorneys, San Diego attorneys, San Francisco attorneys and others. Significant recent additions for the California attorney video section are resources for all aspects of California personal injury cases. Visitors will find a personal injury lawsuit overview and in-depth articles regarding specific types of personal injury accidents and claims, California personal injury attorney videos and listings of California personal injury attorneys by city.
The attorneys from many major California cities have contributed to the LegalTube.com Expert Q & A section, in which attorney videos answer common questions people may have regarding everyday legal matters. With subjects covering real estate law and wills and estate planning to what do after being involved in a car accident or suffering from a dog bite, many of which were contributed by prominent Los Angeles personal injury attorneys.
About LegalTube.com
LegalTube.com offers information and resources on all areas of the law, including a video directory of attorneys by city, state and areas of practice. With articles and an extensive video legal library explaining all areas of legal practice and breaking news on dangerous drug lawsuits, LegalTube.com can help visitors navigate complex legal issues and find a lawyer right for their situation. Choosing a lawyer is a complicated and individual for both the situation and people involved. Different legal matters call for attorneys with expertise and experience in that practice area, but there is also a matter of personalities. Most people want to find a lawyer that they feel will understand their situation, which may be unique, and work closely with them. Ease of communication today makes it possible to interview attorneys in an entire state rather than just one city. LegalTube.com attorney videos allow users to cross-examine the attorneys before deciding which one to contact.
###