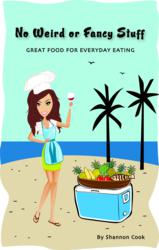 A California girl's collection of 36 fun and tasty recipes.
Orange County, California (PRWEB) March 09, 2012
Author, Shannon Cook, has published "No Weird or Fancy Stuff -- Great Food for Everyday Eating," a California girl's collection of 36 fun and tasty recipes. A cookbook created with easy-to-shop-for ingredients, devised with easy-to-make directions, and filled with quirky illustrations, No Weird or Fancy Stuff encourages readers to share the recipes with family and friends, to tailor the recipes to their liking with a little more of this and a little less of that, and to have fun in the kitchen.
Created as part cookbook, part walk down memory lane, each recipe includes an entertaining description or "enlightenment" on the inspiration or history on how the recipe came to be. No Weird or Fancy Stuff conjures up picturesque images of a carefree way of life of backyard summer BBQs with close friends; all night gabfests with girlfriends; childhood parental tribulations and even a slice of humble pie. And the "anything in moderation is fine" motto eases the mind when consuming some of the more guilty-pleasure recipes.
With just the right amount of tempting recipes, from the effortless Beach BBQ Coleslaw to comfort staple Manly Meatloaf and the decadent Killer Brownies, the No Weird or Fancy Stuff cookbook is sure to be an indispensable favorite for planning a get together, a work night dinner or for just an entertaining read.
Published as an electronic book, "No Weird or Fancy Stuff" is priced at just $.99, for a limited time thru March 18th (use Coupon Code #FS83J), and then will be normally priced at $1.99 and is currently available for purchase at Smashwords at https://www.smashwords.com/books/view/133928. It is also slated for distribution to Apple, Barnes & Noble, Kobo, Sony and Amazon in the coming weeks.
About Smashwords:
Founded in 2008, Smashwords operates the world's leading eBook publishing and distribution platform serving authors, publishers, readers and retailers. Smashwords makes it free and easy for the world's authors and publishers to instantly publish and distribute their books as multi-format eBooks. Smashwords puts authors and publishers in full control over the pricing, sampling and distribution of their works. Authors and publishers receive up to 85 percent of the net proceeds from sales of their works. Smashwords has distribution relationships with leading online retailers such as Apple, Barnes & Noble, Kobo, Sony and Diesel eBooks, and leading mobile e-reading apps including Aldiko, Stanza, Kobo, FBReader and Word-Player, spanning all major mobile platforms including Android, Blackberry and iPhone. Privately held Smashwords is based in Los Gatos, California, and can be reached on the web at http://www.smashwords.com/.
About Shannon Cook:
Shannon Cook is a Southern California native who grew up in the late 60s and early 70s as a quintessential beach girl. Her creative spirit has led her to dabble in everything from cake decorating, pottery, stained glass, interior decorating and fashion design, to too many other things to mention. Most of those pursuits have gone by the wayside, but some, like cooking and photography, seem to have stuck, as has her passion for travel and the outdoors. She fuels her creativity with lots of wine, trips to exotic locales and crazy bucket list adventures. If she doesn't have a trip in the pipeline she goes nuts, and is frankly writing this book for the sole purpose of paying for her travel addiction and the occasional splurge on shoes. To quiet her sometimes chaotic "squirrel" mind, she loves to walk on the beach with her dog, standup paddle surf, ride bikes, ski and do yoga. Shannon Cook lives in Southern California with her honey, Scott, their Cairn Terrier, Tassie, and cat, Coonie. No Weird or Fancy Stuff is her first book.
Contact: Shannon Cook - shancook(at)roadrunner(dot)com - (714) 525-0869