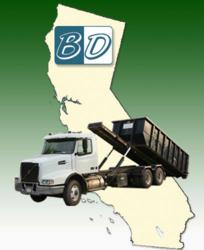 "We're super excited to expand our operations into the great state of California..."
California (PRWEB) December 27, 2012
Budget Dumpster has expanded their rental area to parts of California. They have begun operation in the cities of Los Angeles, San Francisco, San Diego, and Oakland. This service consists of providing temporary roll-off waste containers and the disposal of various refuse and debris for homeowners as well as contractors.
Starting in Cleveland, the company has expanded across the country, partnering with national and local haulers alike to offer their product. They are excited to be able to provide residents of Los Angeles, San Francisco, San Diego, Oakland, and the greater Alameda County with an environmentally-friendly solution to waste removal. Their haulers make use of recycling practices whenever possible as opposed to dumping all of the collected refuse into landfills. By partnering with different companies instead of just one, Budget Dumpster can provide lower rates and offer their open-tops to a much wider service area.
Owner John Matthews says, "We're super excited to expand our operations into the great state of California. We've been eagerly anticipating this move and have high expectations. We're really taken our time to forge relationships with our vendors to make sure our customers get the best service available at the lowest rates. It's been a long road but we've put in a lot of work to make this move a reality and I'm confident our vendors and customers will be happy with our service."
Budget Dumpster, LLC can supply the cities of San Francisco, Oakland, and San Diego with roll-off containers in 10 yard, 15 yard, 20 yard, 30 yard, and 40 yard. For the areas of Los Angeles that are not franchised, Budget Dumpster has 40 yard dumpster options as well as 30 yard sizes in certain cities. They can deliver to the metro and downtown areas of Los Angeles as well as Santa Monica, Pasadena, Torrance, Glendale, Burbank, and the San Fernando Valley.
Budget Dumpster uses a variety of avenues to form a robust environment for disposing of the waste that it collects. Much of the debris is recycled while the rest is taken of transfer stations to be properly sorted and sent to its final location. This eliminates the need for customers to sort their refuse before tossing it. Transfer stations also create a more reliable and responsible form of waste removal by allowing debris to be sorted based on type and content.
Roll-off dumpsters provide an alternative source of waste removal than that of the traditional front-loading dumpster options. The roll-off method is an open-top transient container that is transported on a flatbed truck for delivery to the customer as well as transfer stations, recycling facilities, and landfills. The purpose of these dumpsters ranges from construction uses such as demolition and the building of structures to home projects like remodeling and general cleanup. The waste containers have a larger volume and can handle a wider variety of refuse inside their walls.
About Budget Dumpster
Budget Dumpster specializes in customer service by using the wealth of experience its employees and owners have gained from being in the industry since 2005. In order to expand their business outside of the Midwest and across the country, they have built an intricate network of haulers. Through these partnerships, they have been able to provide a service that is more responsible in the way it handles customers' waste and how their practices impact the world and our environment. Visit budgetdumpster.com for a full listing of their service area and cities broken down by state. Their roll-off dumpster rental is currently available in 42 states and Washington, DC.