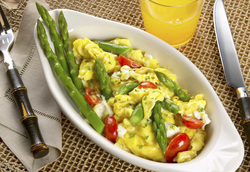 Stockton, CA (Vocus) March 2, 2009
California Asparagus Commission announces this year's crop harvest of 13,500 acres of asparagus (50,000 metric tons) signals that a bountiful supply of the succulent green spears are arriving in markets across the country. California fresh asparagus with its delicate flavor can be enjoyed in a myriad of different ways, as an appetizer, side dish or the fare for a perfect Sunday Brunch. California fresh asparagus are only available for a short time, so don't miss savoring these delectable spears.
In a tough economy consumers are eating at home more often while looking for foods rich in taste, nutrition and value. For those consumers, California Scramble: Fresh Asparagus with Herbed Cream Cheese and Tomatoes, which pairs fresh California asparagus with protein-rich eggs, is a great solution. The excellent flavor and tasty vegetable/protein combination helps meet the US Dietary Guidelines of 5-7 servings of fresh fruit and vegetables every day. The moist tender asparagus spears are packed with nutrients and the simple ingredients and simple preparation yield delicious results.
Fresh Asparagus Scramble with Herbed Cream Cheese & Tomatoes
Serves 6
Prep time: 15 minutes
1 lb. asparagus spears, ends trimmed
8 large eggs
Salt and pepper to taste
1 Tablespoon olive oil
4 oz. whipped garlic and herb cream cheese
1 pt. cherry tomatoes, sliced in halves
1 Tablespoon chopped fresh parsley
Blanch asparagus spears in medium pot of boiling salted water until just tender, about 4 minutes. Drain and set aside.
Whisk eggs in large bowl. Season with salt and pepper. In a large skillet over medium heat, heat olive oil. Add eggs. Stir until eggs are almost set, about 1 minute. Add cheese in dollops and then add tomatoes. Stir until cheese melts and eggs are softly set, about 2 minutes.
To serve, cut asparagus spears into 2-3-inch pieces and fold into egg mixture and place on heated plate or oval ovenware. Garnish with chopped parsley. Option: serve additional 2-3 spears of cooked asparagus on the side. Note: 3 whole eggs and 9 whites can be used instead of 8 whole eggs.
Nutrients per serving:
Calories, 193, calories from fat 123 gms, fat 14 gms, saturated fat 5 gms, sodium 152 mg, cholesterol 298 mg, dietary fiber 3 gms, protein 12 gms.
For more information, recipes, fact sheet and tips, visit: http://www.calasparagus.com . For a high-resolution photo, go to: http://www.calaspphoto.com .
Side Bar - Asparagus Tips
Selecting Asparagus
At the market, select spears of like diameter. This is all important. A mixed diameter bunch will cook unevenly. Some prefer the delicate slender spears not much larger than a lead pencil; others the fatter, succulent spears. Each is a little different. Both have that gorgeous green essence of spring flavor. Large sizes can be as tender as or even more tender than smaller sizes.
Pick firm, plump, straight spears with firm tips and smooth, tender skin. The tips should be tight and compactly closed while the white, woody bottoms should be less than 15 percent of the total length. The cut ends should be white or light-colored. California growers offer a range of sizes from standard (5/16 inch) to jumbo (13/16 inch). To test freshness, give the bunch a squeeze; if it squeaks, it's fresh.
Storing Asparagus
Handle asparagus spears like flowers. Trim the butt end of the spears, then refrigerate, upright, standing in an inch of water. Cover loosely with plastic or wrap the cut ends in a wet paper towel and store in a plastic bag with the top of bag left open. Stored this way, fresh asparagus keeps for two to three days refrigerated. If the tips are slightly wilted, they can be refreshed by soaking them in cold water. Keep frozen asparagus in the freezer until you are ready to cook. Do not defrost before cooking. Do not refreeze asparagus.
Cooking Guidelines
To prepare for cooking, snap the stalks near the base; the point at which the stalk snaps easily is the correct one. Next give the stalks a swishing rinse in cold water.
To many, the essence of asparagus is revealed when it is served crisp-tender and so quick cooking Chinese-style stir fries are a natural. However, so is quick-blanching for hot and cold service and so is asparagus done on the grill or baked. The dry heat of roasting brings out another asparagus dimension intensifying and emphasizing the flavor and adding a slightly chewy pleasant quality. Once cooked, refrigerate asparagus for no more than three days.
A pound of asparagus contains 12 to 15 spears that measure 9 to 10 inches long and 1/2- to 3/4-inch thick. A pound serves 2 to 4 people.
Asparagus Cooking Methods
Blanch or Boil: In a frying pan large enough to hold asparagus in one layer, bring approximately 3 inches of water to a boil. Stir in 1 tablespoon salt. Add asparagus. Cook at a medium boil until fork tender, 2 to 5 minutes, depending on thickness. Drain on paper towel; serve immediately or cool.
Steam: Place whole trimmed asparagus on a steamer rack in a large saucepot over (not in) boiling water. Cover and steam for 4 to 8 minutes.
Microwave: Arrange whole trimmed asparagus in a glass baking dish with tips overlapping in center. Add 2 to 4 tablespoons water. Cover dish with plastic wrap, turning back one corner to vent steam. Microwave at high power for 3 to 6 minutes, then let stand 3 to 5 minutes more.
Stir-fry: Cut asparagus spears at an angle into 1-inch lengths. Stir-fry in hot oil or butter, stirring constantly for 3 to 7 minutes.
Grilling: Brush spears (blanched if jumbo size) with olive oil and place directly on the grill. Cook the asparagus , turning several times, for 4 to 6 minutes.
SERVING SUGGESTIONS

Try a layer of steamed asparagus, splashed with lemon juice, as the bed for a salad.
Chives, parsley, chervil, savory, tarragon or other spices melted into butter are delicious when poured over asparagus.
Sour cream, yogurt and mayonnaise are easy toppings.
Medium dry white wines are best with Asparagus -- look for Chenin Blanc, Fumé Blanc or French Colombard.
For purée, soups or salads, break or cut asparagus spears at the tender part and use the trimmed ends that you might otherwise discard.
Place them in a covered saucepan and boil until tender.
Strain through a sieve or food mill forcing some of the pulp through, or process in a food processor or blender. Use as purée or mix with the cooking water for soups, stews, creamed dishes or sauces.
For easy, fun grilling, skewer several spears with bamboo skewers to make a unique "raft".
###