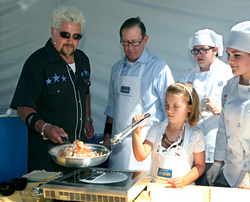 The best cooking is fresh cooking
Sacramento, Calif. (PRWEB) March 26, 2008
As part of the annual California Ag Day, Celebrity Chef Guy Fieri announced the launch of "California Grown's" Experience California: Recipes and Inspirations from the Golden State -- an online source for delicious recipes featuring California grown products developed by the Golden State's top chefs and culinary experts, complete with California wine pairing recommendations and decorating tips.
"The best cooking is fresh cooking," says Guy Fieri, winner of the second season of The Next Food Network Star. "I encourage home cooks, especially in California where the locally grown selection is so amazing, to look for and buy local products. The dishes will be more flavorful; plus it just feels right supporting the home-state growers who produce the foods we enjoy."
Exclusively available online at http://www.californiagrown.org, Experience California can be downloaded in its entirety or one recipe at a time. The renowned chefs and culinary creations include:
Guy Fieri, Northern California - Winner of the second season of The Next Food Network Star, Guy Fieri was awarded a six-episode commitment for his own cooking show. Guy's Big Bite premiered in June 2006 and still airs today. Guy's food is as fun, fearless, and fundamental as his larger-than-life personality. Fieri's Chicken Avocado Egg Rolls recipe was featured in today's Ag day cook-off competition.
Neal Fraser, Los Angeles - Fraser's current restaurants include the highly-acclaimed Grace and BLD restaurants in Los Angeles. He is also known as Los Angeles' first chef to win the Iron Chef television competition. Fraser's recipes include Ahi Crudo with fresh California grapefruit and kiwifruit and Grilled Chicken Salad with Chorizo-Stuffed Olives and Mixed Citrus-Kiwifruit Vinaigrette.
Tori Ritchie, San Francisco - Ritchie is a fifth generation Californian and native San Franciscan as well as a noted cookbook author and TV host. Ritchie's recipes included in Experience California are the Grilled Salmon with Lemon Ginger and Puffed Oven Pancake with Summer Fruit.
Matt Woolston, Sacramento - Woolston, owner of Supper Club in Sacramento, brings people together to celebrate some of the best food in California. He delights his guests with artfully presented courses that combine fresh seasonal ingredients in unique, inspired ways. His delectable Wild Rice, Grapes, and Blue Cheese Stuffed Port Poached Pears recipe is featured in the "California Grown" virtual recipe guide.
Stéphan Voitzwinkler, San Diego - Hired by esteemed San Diego restaurateur - Betrand Hug - to take the helm of the kitchen in his downtown restaurant, Mr. A's, Stéphan Voitzwinkler is a classically trained chef who has a deep fondness for California's un-equaled "raw materials." His contributions to Experience California include a Pan Roasted Turkey "Roulade" with Green Asparagus, Orange and Avocado Salad and Turkey Breast Schnitzel Style.
Floro Bugnosen, Fresno - Executive Chef Floro Bugnosen's cosmopolitan background has afforded him the opportunity to bring to Campagnia an approach that puts this Fresno restaurant on par with some of the best restaurants in the nation. His California cuisine brilliantly showcases the abundance of locally-grown food products, particularly the tree and vine-ripened fruits for which Fresno is justly famous. Bugnosen rounds out the California grown recipes with his very own Nectarine Plum Crostada and Fig and Raisin Bread Pudding dishes.
"We are thrilled to work with such amazing culinary talent to highlight the many ways Californians can enrich their lives with California grown products," said Maile Shanahan Geis, marketing director of the Buy California Marketing Agreement. "With a simple message to 'Be Californian, Buy California Grown,' we want to inspire all Californians to take pride in and support their state's thriving agricultural industry."
About The Buy California Marketing Agreement
The Buy California Marketing Agreement is a joint effort of agricultural industry groups representing the products of California's farms, ranches, forests and fisheries. Working as an advisory board to the California Department of Food and Agriculture, BCMA brings together industry and government resources to increase the awareness, consumption and value of California agricultural products, helping the state's consumers enjoy the best of the California lifestyle.
The "California Grown" campaign is funded through public and private contributions by the U.S. Department of Agriculture, the California Department of Food and Agriculture, and the following California agricultural organizations:
California Asparagus Commission
California Avocado Commission
California Cherry Advisory Board
California Citrus Growers Association
California Cut Flower Commission
California Fig Advisory Board
California Forest Products Commission
California Kiwifruit Commission
California Nectarine Administrative Committee
California Olive Committee
California Peach Commodity Committee
California Pear Advisory Board
California Plum Marketing Board
California Poultry Federation
California Raisin Marketing Board
California Salmon Council
California Table Grape Commission
California Wild Rice Advisory Board
Wine Institute
For more information, visit http://www.californiagrown.org.
###