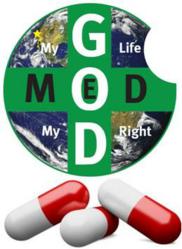 Shade of Green Solutions offered everything we were looking for in a software provider, so the partnership was a natural fit
San Francisco, Ca (PRWEB) September 24, 2011
God Med Synergistic Herbal Corp (GMSHC), a newly licensed dispensary dedicated to healthy consumption and harm reduction, has partnered with Shade of Green Solutions (SoGS), the leading medical marijuana software provider, on two online ordering sites for GMSHC's medical marijuana capsules: GodsMedicine.us, targeted to licensed dispensaries, and GodMedsFor.Me, targeted to individuals with a doctor's recommendation. The Synergy Pro software from SoGS is the leading POS & management solution for the medical marijuana industry.
"When we launched our online order placement sites, one of the most important steps was finding the right software to manage member information and track orders," said Steve Casebeer, founder of GMSHC. "Shade of Green Solutions offered everything we were looking for in a software provider, so the partnership was a natural fit."
SoGS built Synergy Pro, its full-featured management and point of sale software, specifically for the medical marijuana industry, and has provided Synergy Pro to medical marijuana dispensaries and delivery services since March of 2010. It not only provides a full back-end management system, but also the most powerful and robust front-end e-commerce solution available today. Its extensive list of management features include patient tracking and verification, patient check in / check out, inventory control and consignment, comprehensive reporting, hardware integration (driver's license swipers, scales, receipt and label printers, etc.), and much more.
SoGS maintains a world-class data center and their clients' sites are certified and scanned daily by Trust-Guard. Their servers and software are PCI and HIPAA compliant, and all data communication is SSL encrypted. Synergy Pro's security features ensure full compliance with local and state laws, including safeguards to prevent members with expired prescriptions from purchasing medicine. Customizable permissions can limit access on a per employee basis, and administrative and member session time-outs are built in. Synergy Pro also provides complete auditing of all administrative activity.
GMSHC has worked closely with SoGS to integrate Synergy Pro into their business. This leading medical marijuana software solution has allowed them to manage their members, medical cannabis capsule inventory and orders, as well as view detailed reporting that provides visibility into every aspect of their organization. Further, GMSHC has pointed two of their own domain names to the Synergy Pro e-commerce engine to seamlessly integrate with their medical cannabis capsule inventory and effortlessly display a menu and accept orders online.
"We understand how important a fully integrated and flexible software solution is to our clients. To that end, our team has worked diligently to meet and exceed all of God Med's needs," explained Konstantin Bokarius, founder and owner of SoGS.
About God Med Synergistic Herbal Corp (GMSHC)
God Med Synergistic Herbal Corp (GMSHC) is a California medical cannabis non-profit organization that specializes in the production of medical cannabis capsules. GMSHC capsules are made from nothing but Emerald Triangle cannabis buds, kif, and non-GMO soy lecithin emulsifier inside a veg capsule. These medical marijuana pills deliver the full spectrum of components of medical marijuana flowers, providing whole plant therapy in a convenient, discrete, easy-to-swallow capsule. Patients have used the medicine to naturally treat hundreds of ailments from headaches to depression to cancer without the sometimes debilitating side effects of prescription medications.
GMSHC capsules are available at a number of California medical marijuana dispensaries and online at http://www.GodMedsFor.Me. Dispensaries can place orders online at http://www.GodsMedicine.us. GMSHC also offers revolutionary health enhancement products at http://www.GodMedGoods.com
For more information about GMSHC, call or fax (877) 592-7727. For more information about medical marijuana pills or any of God Med Synergistic Herbal Corp's services, visit GodMed.com.
About Shade of Green Solutions (SoGS)
Shade of Green Solutions (SoGS) seeks to further the availability of medical marijuana to patients by providing technical services for medical marijuana related organizations. SoGS offers a wide variety of custom solutions that can drive every aspect of medical marijuana organizations. The proprietary solutions are developed in-house and from the ground up, and include front-end interfaces such as e-commerce engines, as well as back-end tools for inventory / patient management. SoGS's software introduces efficiencies, improves productivity, and saves resources throughout their clients' organizations, and helps to scale, expand, and evolve their businesses.
For more information about SoGS, call (866) 240-4581 or visit http://www.shadeofgreensolutions.com.
###