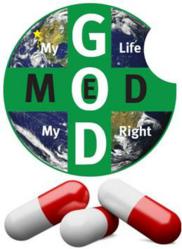 We are dedicated to improving the lives of the many people who count on GMSHC capsules to heal their bodies, and that's why we formed our own dispensary to directly provide medicine to patients
San Francisco, CA (PRWEB) October 05, 2011
God Med Synergistic Herbal Corp (GMSHC), a newly licensed dispensary dedicated to healthy consumption and harm reduction, is proud to announce the launch of their direct-to-patient site, GodMedsFor.Me. The site provides patients with a valid recommendation the convenience of direct online ordering of GMSHC medical marijuana capsules.
"For many patients with debilitating ailments including cancer, MS, emphysema, and AIDS-related illnesses, getting to a physical dispensary can be very difficult," explains GMSHC founder Steve Casebeer. "We are dedicated to improving the lives of the many people who count on GMSHC capsules to heal their bodies, and that's why we formed our own dispensary to directly provide medicine to patients."
Patients who already use or are interested in trying GMSHC marijuana edibles simply go to GodMedsFor.Me, click on the "Join" tab, and fill out a membership form, which they can either email or fax to GMSHC, along with a copy of their physician's recommendation or state ID. Or they can simply fill put in a call request, and a GMSHC representative will help them place the order over the phone.
Once patients have an account, they can simply log in to see the range of ordering options available. Each available medicine is listed, along with a picture and other relevant information. Patients can choose the desired amount of each medicine, and place a direct order. Once the order is received, the patient will be contacted with payment and order details. Patients can also view their current order status and invoices from past orders on the website.
"Our cannabis capsules are made with the entire flower, giving patients the benefit of whole plant therapy," says Steve. "Now patients can come direct to the source for all their healing needs."
For more information about ordering GMSHC capsules online, call or fax (877) 592-7727, or visit http://www.GodMedsFor.Me. For more information about medical marijuana pills or any of God Med Synergistic Herbal Corp's services, visit GodMed.com.
About God Med Synergistic Herbal Corp (GMSHC)
God Med Synergistic Herbal Corp (GMSHC) is a California medical cannabis non-profit organization that specializes in the production of medical cannabis capsules. GMSHC capsules are made from nothing but Emerald Triangle cannabis buds, kif, and non-GMO soy lecithin emulsifier inside a veg capsule. These medical marijuana pills deliver the full spectrum of components of medical marijuana flowers in a convenient, discrete, easy-to-swallow capsule. Patients have used the medicine to naturally treat hundreds of ailments from headaches to depression to cancer without the sometimes debilitating side effects of prescription medications.
GMSHC capsules are available at a number of California medical marijuana dispensaries and online at http://www.GodMedsFor.Me. Dispensaries can place orders online at http://www.GodsMedicine.us. GMSHC also offers revolutionary health enhancement products at http://www.GodMedGoods.com
###