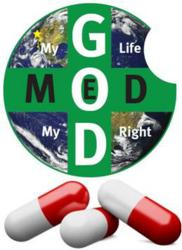 Instead of blindly refusing to acknowledge that the plant has medicinal value, the federal government needs to change its marijuana policy to focus on maximizing scientific research
San Francisco, CA (PRWEB) November 16, 2011
The California Medical Association (CMA), the state's largest physician group, recently issued a white paper calling prohibition a "failed public health policy," and advocating a discontinuation of current marijuana policy in favor of removing the plant from the Schedule 1 category of drugs and establishing a regulated distribution system for both medical and recreational cannabis. God Med Synergistic Herbal Corp (GMSHC) supports the CMA's recommendations, saying they would encourage sensible policy and open the door for research into the plant's full potential.
"Instead of blindly refusing to acknowledge that the plant has medicinal value, the federal government needs to change its marijuana policy to focus on maximizing scientific research," says longtime marijuana activist and GMSHC founder Steve Casebeer.
Under current law, the federal government classifies marijuana as a Schedule 1 drug, meaning it is considered to have no medicinal value. Under California law, medical marijuana is available with a physician's recommendation, but recreational use remains prohibited. The conflict between state and federal law on the issue is the cause of great tension; recent attempts by the federal government to shut down medical marijuana dispensaries have been widely decried across the state.
Physician groups including the American Medical Association (AMA), the American College of Physicians (ACP) and the CMA have called for a change in the federal law in order to permit further research on the potential medical benefits of marijuana. As the CMA notes, "very little clinical research or regulation of cannabis exists due to its current federal illegality."
In the limited studies that have been allowed, numerous legitimate medical uses for marijuana have been found. It has been shown to help many people suffering serious ailments including cancer, HIV, multiple sclerosis, Alzheimer's, depression, and many others.
"Unlike other drugs approved for the treatment of these illnesses, marijuana doesn't come with debilitating side effects or cause drug interactions," notes Steve.
According to the CDC, almost half of Americans are on a prescription drug, and 20% are on 3 or more. Steve notes, "As you combine more and more prescription medications, the drug interactions just get exponentially worse.
"People are getting sicker the more they medicate. And the FDA keeps approving drugs that are later shown to have severe health consequences, while marijuana, which has been used medicinally for thousands of years, continues to be illegal. It makes no sense!" exclaims Steve.
GMSHC encourages people who support the CMA's recommendation to take action for marijuana legalization, and provides information and links to help supporters make their voices heard.
About God Med Synergistic Herbal Corp (GMSHC)
God Med Synergistic Herbal Corp (GMSHC) is a California medical cannabis non-profit organization that specializes in the production of medical cannabis capsules. GMSHC capsules are made from nothing but Emerald Triangle cannabis buds, kif, and non-GMO soy lecithin emulsifier inside a veg capsule. These medical marijuana pills deliver the full spectrum of components of medical marijuana flowers, providing whole plant therapy in a convenient, discrete, easy-to-swallow capsule. Patients have used the medicine to naturally treat hundreds of ailments from headaches to depression to cancer without the sometimes debilitating side effects of prescription medications.
GMSHC capsules are available at a number of California medical marijuana dispensaries and online at GodMedsFor.Me. Dispensaries can place orders online at GodsMedicine.us. GMSHC also offers revolutionary health enhancement products at http://www.GodMedGoods.com.
For more information about GMSHC, call or fax (877) 592-7727. For more information about medical marijuana pills or any of God Med Synergistic Herbal Corp's services, visit GodMed.com.
###