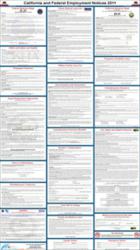 It is required to have your posters up to date for the NLRB/ NLRA posting!
Los Angeles, CA (PRWEB) September 17, 2011
State and Federal Poster Inc. updated all posters including the California State and Federal Labor Law Posters with the new NLRB/ NLRA rule that has just recently been passed. California's big businesses and companies must change or purchase a new poster before they are fined. The specific changes in the poster will be under the labor act section that has to do with employers and employees rights in the workplace. This change it important and must be followed. Therefore, please take this notice seriously.
The NLRB/ NLRA postings are very important and it has just been passed. The California State and Federal Labor Law Posters are updated with the new NLRB/ NLRB postings. All employers subject to the rule must physically post the notice in their facilities or workplace, and employers who post notices regarding personnel policies or rules electronically will also be required to post the notice in that manner.
###