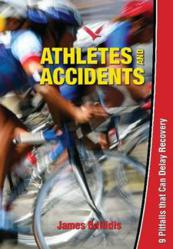 All athletes have experienced pulled muscles, torn ligaments, and other training injuries that they've worked through
Newport Beach, CA (PRWEB) May 04, 2011
Screenwriters and sports broadcasters celebrate athletes who endure injury to win the game, but "working through the pain" after an accident can severely counteract recovery.
We read about athletes, "playing through the pain," all the time: Los Angeles Lakers guard Kobe Bryant scoring 19 points on a sprained ankle to help the team win a pivotal playoff game. Such coverage sends athletes injured in serious accidents the wrong message about rehabilitation, reinforcing the stigma of a lengthy recovery many of them already have. The consequences can be devastating, according to California personal injury attorney James Ballidis, the author of Athletes and Accidents: 9 Pitfalls that Can Delay Recovery.
"All athletes have experienced pulled muscles, torn ligaments, and other training injuries that they've worked through," explains Ballidis, "but auto and other serious accidents can deliver a tremendous impact to the body, resulting in severe injuries that require months, sometimes years, of specialized care to heal."
Athletes are especially prone to pitfalls that can delay recovery. A debilitating injury not only disrupts their highly physical routine, but also their social, economic, and emotional support system. In their attempt to get back on a bike, in the pool, or on the court, they may resort to previous methods of training, sources of advice, or sheer self-determination to overcome their condition—actions that can ruin their chances of prompt or permanent physical and financial recovery.
Mr. Ballidis and his firm specialize in representing athletes, as noted recently in Competitor magazine. The inclination of athletes to, "work through the pain," and quickly recover causes them to encounter some of the following common pitfalls, according to Ballidis:

Training against the advice of medical professionals. Working through the pain can cause additional injury or delay recovery.
Relying on their family doctor when the injury requires the expertise of a specialist.
Impatience with the recovery process.
Social isolation due to their inability to train with friends and colleagues.
Anger and frustration at a situation that is not their fault.
Ruining their claim for compensation by underestimating the severity of their injury when speaking with insurance adjusters.
Gleaned from over 26 years of experience advising and representing athletes injured in serious accidents, the information in Athletes and Accidents: 9 Pitfalls that Can Delay Recovery is offered as a Free guide to successful physical and financial recovery for California accident victims.
###