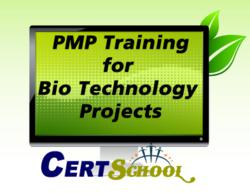 New discoveries in the Bio Technology field are opening up excellent opportunities for well-qualified, PMP ® certified project managers. CertSchool bundles PMP, 6 Sigma, MS Project trainings for one low price
Thousand Oaks, CA (PRWEB) October 26, 2011
CertSchool.com have created a course for up-and-coming Bio Technology management specialists who can benefit not only from the cutting-edge PMP Bio Technology Project Management course curriculum and the special price of $895 per person, but will also gain expertise in the valuable Six Sigma Green Belt Self Study training that is included in this customized training event. Every candidate wishing to tune into the 21st Century's major developments in Bio Technology can book a seat for this highly sought-after course in Southern California.
CertSchool's new PMP Bio Technology training event prepares candidates for the specific challenges of Bio Technology project management. This course covers essential knowledge for PMP certified project managers in the Bio Technology field – a strongly-regulated environment of testing and development. New discoveries in the Bio Technology field are opening up excellent opportunities for well-qualified, PMP certified project managers. The new training event is perfect for people wishing to concentrate their efforts in the Bio Technology industry, concluding and delivering Bio Technology products on time and on budget.
Having recently opened a new location in Thousand Oaks, Southern California; Certschool's CEO and lead instructor, Aditya Chinni was pleased to announce, "The special price of $895 per person is being offered for this forward-looking and relevant course in the state of Southern California. As with all of Certschool's Project Management Professional (PMP) certification courses, the highly refined course materials are delivered by practicing project managers who have direct experience in the Bio Technology field, and the revising part is made very easy for aspirants with points in bullet form and mock testing that prepares candidates for the Project Management Professional (PMP ®) exam."
Certschool's CEO and lead instructor also confirmed that, "this new training is designed to equip Bio Technology project managers with a set of very special skills. The PMP ® certification course is customized and includes up-to-the-minute information relevant to successful project management in the Bio Technology field. There's also the bonus of Six Sigma Certification training (for Green Belt) in this course, ensuring that candidates become certified in a specialized skill set much sought after in today's forward-thinking business and economic environment. Candidates are trained in a proven PMP ® training process, and our First-Pass-or-money-back guarantee is also included with this training."
CertSchool is a project management training consultancy that helps project management aspirants in achieving certifications from various project management organizations. Aditya Chinni, founder of CertSchool, has delivered many successful PMP ® Prep training sessions for various PMI Chapters and Tech giants like Sun, HP, Oracle, and CSC. CertSchool is recognized by PMI (Project Management Institute) as a Global Registered Educational Provider. More information on CertSchool and the PMP ® Bootcamp classroom trainings can be found at http://www.certschool.com/bootcamp.
To find out more and to book for up coming training events, please contact Aditya Chinni at aditya(at)certschool(dot)com or telephone 1.888.369.1221.
# # #