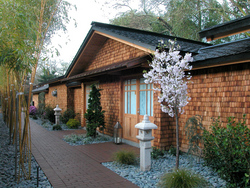 The Gaige House is a perfect addition to our California collection of hotels, and there is an enormous amount of demand from our guests for a wine country property
San Francisco, CA (Vocus) February 24, 2009
Joie de Vivre announces the award-winning Gaige House in Sonoma County has joined California's largest boutique hotel collection. Joie de Vivre assumed management of the luxurious 23-room wine country hotel this month as part of its ongoing California expansion program.
Nestled in the classic hamlet of Glen Ellen, the Gaige House is a secluded getaway for those visiting the Sonoma and Napa Valley area. The upscale wine country hotel is located near wineries, quaint boutiques and art galleries, offering guests an authentic California travel experience.
"The Gaige House is a perfect addition to our California collection of hotels, and there is an enormous amount of demand from our guests for a wine country property," said Chip Conley, founder and CEO of Joie de Vivre. "We're also thrilled that with the Gaige House and Joie de Vivre's Ventana Inn & Spa in Big Sur, we now have two of Condé Nast Traveler's 'Top 100 hotels in the U.S.' in our portfolio of boutique properties."
The Gaige House and Ventana Inn & Spa were named among the 100 best hotels in the prestigious Condé Nast Traveler "Readers' Choice Awards." The Gaige House was ranked 31st and Ventana Inn & Spa landed in 45th place on the list, which appeared in the magazine's November 2008 issue. Both also appear on Condé Nast Traveler's 2009 "Gold List."
To mark joining Joie de Vivre Hotels, the Gaige House is offering a Zen Suites package priced from $275 per night. Guests can enjoy a savings of $50 off the best available rate Sunday through Thursday through June 30, 2009. The package includes one-night in a 715-square-foot Zen Suite, a bottle of Hanzell Chardonnay and a private tour for two of Hanzell Vineyards - one of California's most enduring and historically important wine estates. The Gaige House Zen Suites package can only be booked online at http://www.jdvhotels.com/hotels/gaigehouse using the promo code "zengaige" or directly at http://tinyurl.com/aa92vu.
Set on three acres of landscaped gardens, the Gaige House features an Asian-inspired ambiance, spa, heated pool and hot tub. In 2006, the Gaige House added 13 distinctive Spa Suites, including eight spacious Zen Suites that are arguably the best in Sonoma. Renowned New York designer Paul Davis created the Asian and Indonesian-inspired suites, which offer large granite soaking tubs, in-room fireplaces, and private Japanese-style gardens ideal for in-suite spa treatments. The 10 elegant guestrooms located in the main house also evoke a modern Eastern Zen feeling, one that blends with the building's original Victorian design. Among the Gaige House's offerings are a complimentary expanded continental breakfast and a complimentary wine pouring on weekend evenings that features some of the area's finest wines plus a selection of northern Californian artisanal cheeses.
The Gaige House's secluded grounds are dotted with landscaped pathways along Calabazas Creek. Guests can enjoy spa services overlooking the creek, in their guestroom, or in the Gaige House Cabana in the Zen Garden. Small private wedding ceremonies can also be held in the garden, and couples can reserve exclusive use of the grounds and the hotel through the Gaige House Wine Country Weekend Wedding program. The Gaige House also hosts executive retreats and meetings in its Terrace Room, which seats up to 20 participants.
For more information and reservations, visit http://www.jdvhotels.com or call 800.738.7477.
About Joie de Vivre
San Francisco-based Joie de Vivre (http://www.jdvhotels.com) is a collection of creative lifestyle businesses. Founded in 1987 by Chip Conley, Joie de Vivre manages nearly 40 boutique hotels, more than 20 restaurants and four spas, and is recognized for creating some of the most innovative hospitality services and products and designing one-of-a-kind properties. Joie de Vivre also manages residential projects with hotel-style services and amenities. As California's largest boutique hotel collection, Joie de Vivre Hotels is becoming the hotel brand synonymous with the California travel experience, offering a wide range of unique urban, suburban and waterfront boutique hotels that cater to leisure and business travelers in all market segments. Joie de Vivre hotels are located in San Francisco, Marin County, Silicon Valley, San Francisco East Bay, Big Sur, Sonoma County, Santa Cruz, Sacramento and Los Angeles. In 2009, Joie de Vivre continues its California expansion, with hotels opening in Huntington Beach, Long Beach, Venice Beach and Santa Clara.
# # #