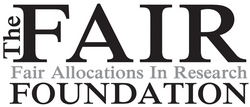 We continue to exhort Congress and the National Institutes of Health (NIH) to recognize this success and cease the exorbitant favoritism in funding for HIV/AIDS that has existed for two decades
Palm Desert, CA (PRWEB) April 30, 2009
New Report Further Justifies Need for Reallocation of HIV/AIDS Research Dollars to non-HIV illnesses
The California Department of Public Health, Office of AIDS, has released stunning success numbers in the battle against HIV/AIDS. This new revelation continues to reinforce The FAIR Foundation's mission in seeking a reallocation of funding that would redistribute a portion of the government's exorbitant HIV/AIDS research budget to non-AIDS diseases that do not have effective drugs like those that have been developed for HIV disease.
In 1992, 9,797 patients who were diagnosed with AIDS died that same year. In 2008, the number of patients who were diagnosed with AIDS and died in 2008 was 157 (as of 03/31/09) -- and of those 157, some died from auto accidents, assaults, suicide, etc. -- the Office of AIDS does not filter those out---so the actual number who died from AIDS is actually less than 157.
This is a 98 percent rate decrease that illustrates the phenomenal success the U.S. has achieved against HIV/AIDS. In addition, in California only six patients with AIDS have died. The number of HIV cases reported has fallen to 252.
"Our government's top HIV researcher, and the man who oversees the disease's $2.9 billion federal budget, Anthony Fauci, MD, states that the scientific advancements that have been made in HIV (research) are 'breathtaking'," said Dr. Richard Darling, founder and president of The FAIR Foundation. Dr. Fauci goes on to state, "With highly effective drugs to suppress HIV, we are at a point where what was a death sentence in the early eighties is now leading to patients who look and feel well, leading very productive, very gratifying lives."
Yet, HIV disease still receives ten percent of all bio-medical research funding despite the fact that HIV/AIDS deaths are headed to zero where the existing drugs and prevention education have been employed.
"We continue to exhort Congress and the National Institutes of Health (NIH) to recognize this success and cease the exorbitant favoritism in funding for HIV/AIDS that has existed for two decades," added Dr. Darling. "Diabetes kills more Americans than AIDS and breast cancer combined including 7,414 in California compared to 642 for HIV/AIDS -- yet $39 is being spent on each diabetic in research versus $2,774 on each HIV/AIDS patient." Diabetes affects 24 million Americans compared to one million with HIV/AIDS.
FAIR, an acronym for Fair Allocations In Research Foundation, has thousands of members in all fifty states who support its efforts, and it is lead by a 26-member Board of Directors consisting of eminent surgeons, medical directors and patient advocates who want fair and equitable bio-medical research distributions for all diseases.
Dr. Richard Darling, a California dentist, founded the FAIR Foundation after surviving hepatitis C, diabetes, cirrhosis and cancer of the liver, a coma, a heart attack, Muscular Dystrophy (myasthenia gravis) and three liver transplant operations.
###