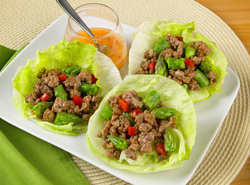 The warm weather is bringing forth some of the best-looking asparagus we've seen in years
Stockton, CA (Vocus) March 26, 2009
Fresh California Asparagus is in peak season right now with markets stocking plenty of the succulent, crisp green spears along with tender American lamb, two perennial consumer favorites. According to the California Asparagus Commission, the pairing of this springtime duo makes eating and entertaining at home a truly extraordinary experience.
"The warm weather is bringing forth some of the best-looking asparagus we've seen in years," said Cherie Watte Angulo, executive director, California Asparagus Commission. "The uniform size, height and color are distinctive of California fresh asparagus and available in markets now through May. Surveys show that consumers are wild about the succulent green spears -- asparagus are consistently named America's favorite side dish in food buyer surveys - and we have now expanded our website with a number of new offerings, information and recipes."
In this refreshing and easy to prepare recipe, bold flavors, crunchy vegetables, cool and crispy lettuce combine into a delicious, healthy, hands-on appetizer or a main dish meal. Tangy American Lamb and California Fresh Asparagus Lettuce Cups shines with its savory filling, appealing crunchiness. The ground lamb delivers special occasion flavor at everyday prices. The moist tender, asparagus spears are packed with nutrients and the lettuce cups are a refreshing alternative to higher fat grain wraps that even kids can learn to love for one simple reason: You get to play with your food, eat with your hands and it is okay!
Tangy American Lamb and California Fresh Asparagus Lettuce Cups
Serves 4
Prep time 20 minutes
Dressing:
1/4 cup ginger, peeled and sliced
1/4 cup lemon grass, sliced
1/4 cup lime juice
2 tablespoons fish sauce
2 tablespoons water
3 tablespoons sweet chili sauce
Filling:
2 tablespoons sesame oil
1 lb. ground Lamb
salt and pepper to taste
1 lb Asparagus, trimmed and cut on diagonal into 1 inch pieces
1 small red bell pepper, diced
12 iceberg or butter lettuce leaves
For dressing, puree first 5 ingredients in blender. Let stand 15 minutes to 1 hour.
Strain mixture into a small bowl. Squeeze liquid from solids and discard solids.
Add sweet chili sauce.
Heat 1 tablespoon of sesame oil in large skillet over medium heat. Add ground Lamb. seasoned with salt and pepper. Sauté until cooked through. Drain off fat. Remove from pan and transfer to mixing bowl. Add remaining tablespoon oil to sauté pan. Sauté Asparagus and red pepper until tender. Add to Lamb. Reserve ¼ cup dressing
and add the remaining dressing to coat mixture well.
Arrange lettuce cups on a platter. Trimming edges on any oversized leaves.
Spoon approximately 2 heaping tablespoons Lamb-Asparagus mixture into lettuce cups. Serve remaining sauce along side.
Serve at room temperature.
Nutrients per serving:
Calories 477, calories from fat 313, fat 35 gms, saturated fat 16 gms, sodium 930
mg, cholesterol 77 mg, dietary fiber 4 gms, protein 24 gms
© California Asparagus Commission
Downloads:
Recipes & California Fresh Asparagus Tips: http://www.calasparagus.com
Asparagus Fact Sheet: http://www.asparagusfacts.com
American Lamb: http://www.americanlamb.com
High Resolution Photo: http://www.calaspphoto.com
# # #