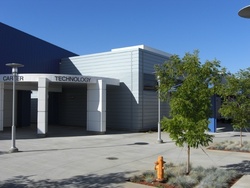 For contractors, this college gives us the opportunity to attract more quality workers into our craft and also have current valuable field experienced personnel gain additional training that could result in them developing into future management staff
SAN JOSE, Calif. (PRWEB) October 23, 2008
The college will benefit construction workers who can fill the white collar jobs becoming available. Many of them have been apprentices, learning their trades from experienced workers. Some of them have parents who wanted their children to earn a college degree instead of working in the construction industry. The California Construction College will award a Bachelor of Science degree, giving credit for past work experience, and the classes will be scheduled for the convenience of working students.
"When parents, students and educators understand that an apprenticeship and a college degree are no longer mutually exclusive in the construction industry, there will be less resistance to our youth pursuing the Trades," said Neil Struthers, President and CEO of the Santa Clara & San Benito Counties Building & Construction Trades Council.
California Department of Industrial Relations Director John C. Duncan said at the announcement ceremony, "The CCC is designed to attract both high school graduates and skilled workers who are looking for professional careers in the construction industry and as CTE teachers. Students continue to work in their professions and earn a living while learning the skills necessary to reach their individual career goals. The CCC also plays an important role in meeting the governor's job creation and infrastructure rebuilding priorities."
There is an ongoing concern that contractors from other states and even other countries will profit from the huge volume of work generated from billions of dollars in infrastructure bonds for the construction of schools, medical centers, nursing facilities, and other buildings in California. With highly trained mid-managers graduating from the CCC, local and California based contractors will be able to expand their business management from within their own companies and those construction jobs will go to California-based companies, keeping jobs and tax revenues in the state.
"The California Construction College will also train senior construction workers so they are qualified to teach Career Technical Education (CTE) at college and high school level," said Rosa Pérez, Chancellor of the San José/Evergreen Community College District. "We've learned that being a software engineer isn't the most stable job. Coding and development can always be outsourced. Construction work is site-specific, and CCC will ensure that those jobs remain here in the Silicon Valley."
"For contractors, this college gives us the opportunity to attract more quality workers into our craft and also have current valuable field experienced personnel gain additional training that could result in them developing into future management staff," said Tony Mirenda, CEO of TBI Construction and Construction Management as well as co-chair of S4CA. "The students at CCC must have completed high school to be admitted, and this will discourage students from joining the already large population of dropouts in California. As in other professions, the people who are the most motivated to learn and succeed do so, and the graduates from CCC will be in high demand."