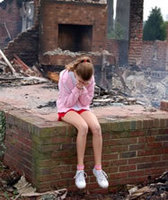 FamilyKeys helps families get organized and their records saved.
Paradise, CA (PRWEB) September 11, 2009
Wildfires are prompting a software company headquartered in California and specializing in safe record and possession-tracking organizational software to offer California residents a 25% discount. The program, called the "California Disaster Relief Discount", is designed to encourage residents to organize their vital records, including insurance and medical records, as well as document their possessions.
"California gets ravaged by wildfires, floods, mudslides, earthquakes and other natural disasters nearly every year", said Denise Culley, President of FamilyKeys.com. "We want to help residents get prepared in case they have to evacuate. Our software was created for just the types of situation we faced in California this summer."
FamilyKeys software walks families step-by-step through the process of gathering and saving vital identification, medical and family records. It also helps record and catalogue accounts, bills, insurance records, AND personal possessions and household belongings.
"We created FamilyKeys, in part, to help people prepare for emergencies like these wildfires," Culley said. "People underestimate their preparedness for such disasters. They think gathering their files, their photo albums and their clothes is a plan".
Culley said that most disaster victims who lose their homes say they find out too late how poorly prepared they were. Victims also discover the difficulty of sifting through their records and trying to recreate the value of what they own. "Getting your family's vital records restored, and getting insurance to pay for your household contents, can be a nightmare after a disaster," Culley said, adding that "FamilyKeys helps families get organized and their records saved."
"More importantly," Culley said, "in a time of emergency preparation such as we're facing now, FamilyKeys helps you organize your thoughts into a clear, process-driven strategy that helps you get ready."
Unlike most record organization software, FamilyKeys is not internet-based. As a result, records are protected from cyber theft. As FamilyKeys systematically walks families through the organization and record collecting process, it stores that vital information on their own personal computers. AND, most importantly for potential fire, flood, and disaster victims, FamilyKeys Software has the option to back up that information to users' USB thumbdrives.
"The thumbdrive recordkeeping capability," Culley said, "means that, even at a moment's notice, you can grab all of your vital family, personal, and insurance records and make it to safety with your lives and your life intact. We also encourage people to store extra thumbdrives elsewhere, such as the office, or a distant relative's, as a backup plan, because we can't always plan on being home when disaster strikes."
Because FamilyKeys Software program can be purchased and downloaded from the Internet immediately, Culley said the company came up with the discount "to give our State's residents the opportunity to prepare now for the next potential disaster. Since FamilyKeys is a software program, it can be constantly updated. We want to help residents of our State get prepared now... and for the future."
"Every evening on the news, we're watching the fires consume so many acres and homes," Culley said. "It seems like it should be a wake up call for anyone sitting safely in their living rooms, a wake up call to do something for their families and homes now, instead of when disaster causes a panic."
Community groups, insurance agents, realtors, or any company that wants to help its community should contact FamilyKeys for volume licensing discounts."We've seen firsthand that agents whose clients use programs like FamilyKeys have a much easier time with post-disaster paperwork. And the program helps people realize -- before disaster happens -- if they are under-insured, so they can make policy adjustments."
"More importantly", Culley added, "giving your clients a personalized copy of FamilyKeys with your contact information on it gives them a sense of how much you care when it counts. And that has long-term retention value."
To get the special 25% discount on FamilyKeys, simply go to the California Resident Disaster Relief Discount site or contact FamilyKeys.
FamilyKeys is a emergency preparedness, record keeping and organizing software company based in northern California.
Contact:
Denise Culley, President
FamilyKeys
snailmail - FamilyKeys Inc. -
PO box 3386,
Paradise, CA 95967
###