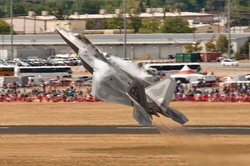 "This year's Airshow is lining up to be the biggest and most thrilling show yet!" said Darcy Brewer, Executive Director of the California Capital Airshow.
Sacramento, Calif. (PRWEB) April 16, 2010
California Capital Airshow today announced that the F-22 Raptor Demonstration Team will thunder into Sacramento headlining the show on September 11-12, 2010. Captivating audiences at Mather Airport will be the breathtaking F-22 Raptors as well as an array of equally exciting, thrill seeking military jets, world-renowned aerobatic performers and historic aircraft.
"This year's Airshow is lining up to be the biggest and most thrilling show yet!" said Darcy Brewer, Executive Director of the California Capital Airshow. "Attendees will be impressed by the Raptor's power, acceleration, and thrust-vectoring capabilities. The Raptor defies the laws of physics and crowds love it, but the show certainly doesn't stop there. We will have something for everyone and every age – from colorful entertainment and aerobatics soaring overhead to live bands and a Kids Zone with interactive, educational exhibits – it's going to be an incredible show."
Most people have never had the honor to see the world's only operational fifth-generation fighter aircraft, thus the Raptor's airshow routine leaves a lasting first impression that most people never forget. The demonstration highlights the maneuverability and air dominance of this new fighter engineered by the aviation experts of Lockheed Martin, Boeing, Pratt & Whitney and the US Air Force. Its stealth, speed, agility, precision and situational awareness make it overwhelmingly effective in its combined air-to-air and air-to-ground mission capability. Once audiences see and experience this amazing fighter jet, it will solidify the fact that the United States has truly created a new generation of aircraft.
"It has been my pleasure to work with and support the California Capital Airshow in their efforts to schedule the F-22 Raptor fighter jet for the September 11-12, 2010 show. It will truly be an honor and great opportunity for the audience to see the F-22 and its capabilities in combining speed, agility, precision and raw power," said Congressman Dan Lungren. "The California Capital Airshow strives to show gratitude for veterans and current military personnel and to inspire and educate youth in our region. Everyone in attendance will feel a sense of pride in this latest accomplishment of the United States as they experience the fighter jet and the magnificent performance it will give. Those who have served their country and young people looking forward to future service will be in awe as they witness the F-22 Raptor demonstration."
"I am happy that we could be helpful in getting an F-22 Raptor demonstration during this year's California Capitol Airshow. Each year, thousands of Sacramentans come out to Mather Airfield to see planes and jets show off," said Congresswoman Doris Matsui. "The F-22 is the world's most advanced jet. It is able to do aerial acrobatics that previous jet aircraft have never been able to do. I know the crowd will be awed by its performance as well as the professional qualities of the men and women who design, fly, maintain and support these aircraft thereby inspiring our next generation of leaders."
Tickets to the 2010 California Capital Airshow at Mather Airport are now available online and can be easily purchased at the Airshow web site, http://www.californiacapitalairshow.com/buytickets.php.
The California Capital Airshow web site will be updated regularly with news, attraction information and more. Community members and attendees can also follow the Airshow on Facebook and Twitter (#calcapairshow).
High resolution photos are available online at http://californiacapitalairshow.com/press/. To request press credentials for the event go to http://www.californiacapitalairshow.com/getinfo/media.php.
About California Capital Airshow
Established in 2004, the California Capital Airshow has become one of the largest and highly- respected shows in the nation. As part of its community relations, the non-profit organization has awarded over 60 scholarships to deserving students from our region with an interest in aviation, aerospace, aeronautics and related fields. For more information about the California Capital Airshow, please visit http://www.californiacapitalairshow.com.
###