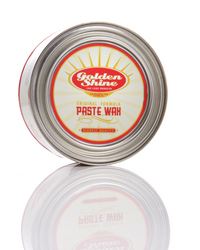 This new wax is amazing and it is surprisingly easy to apply
Chatsworth, CA (Vocus) November 9, 2010
Give your paint the best possible shine with the new Golden Shine Paste Wax. Part of California Car Cover's new line of car care products, the Golden Shine Paste Wax is a revolutionary product that combines the ease of use of traditional paste wax with the protection of liquid wax. The Golden Shine formula was developed with the automotive perfectionist in mind, who is looking for the deepest, most durable shine. A unique blend of Brazilian carnauba wax combined with clear, reflective polymers that allows for easy layering and delivers a clear, brilliant shine.
"I am very proud of our new Paste Wax, it delivers everything a auto enthusiast would want in a wax, but it easy for any car owner to use," says California Car Cover president Jim DeFrank. Because of the ability to apply this wax in direct sunlight without any ill effects, this wax is also perfect for those who need to detail their car in their driveway or in the sun.
To use, simply apply a small amount of wax with a microfiber applicator after washing the vehicle. The Paste Wax applies easier than any paste wax on the market and leaves a deep shine that will protect the vehicle for up to 3 months. Perfect for any color, finish, or surface and is even safe to use in the sunlight. Just wipe it on, and wipe it off. "This new wax is amazing and it is surprisingly easy to apply," says Brandon Long, a Golden Shine Sales Associate at California Car Cover.
Many paste waxes of similar quality can sell for up to $1000. California Car Cover is offering its new Paste Wax at a price of just $39.99 and guarantees that it will outshine even the most expensive paste waxes on the market. "For less than $40, the Paste Wax provides a great value to anyone who details his or her own vehicle. The Paste Wax is just one of many new products that we have developed this year and we look forward to introducing many more Golden Shine Car Care Products in the near future" said DeFrank.
California Car Cover is a mail order based car care and accessories company headquartered in Chatsworth, Ca. Founded in 1989, the company continues to add new and unique products to its monthly catalog and website. For additional information or to request a free catalog please contact Sheryl Melendez. sheryl(at)calcarcover(dot)com
or 800 423 5525 x120.
# # #