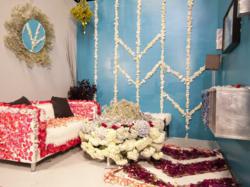 Each designer created fantastic fresh flower art pieces that are beautiful, creative, unique DIY Mother's Day flower gift ideas with a huge "wow" factor.
Los Angeles, CA (PRWEB) May 07, 2012
Moms with a heart for art may need more "wow" in their DIY Mother's Day flower gift than a conventional Mother's Day flower bouquet can deliver. Enter the artistic, out of the box, unique DIY Mother's Day flower gift ideas inspired by professional designers competing to win a $10,000 prize in the first episode of the new HGTV show "White Room Challenge". LA Flower District California Flower Mall, the San Pedro Street wholesale and discount downtown LA flower mart, was the location for competitors' intense 15 minute shopping spree to select 1500 flower stems for their 15 hour design challenge using fresh flowers as their medium.
Show host David Bromstad, former winner of HGTV's "Design Star" series, told competitors: "This is a flower challenge so you'll be judged on the color, creativity and cohesiveness or use of flowers in your room design." Initially, California interior and event floral design professionals' Saadia Kibriya owner of Kismet Event Planning & Design in Fullerton and Clarissa Marson from Auburn each said they had the competitive edge. Charleston, South Carolina interior designer Matthew Bees, who once worked as an event floral designer fresh out of college, also claimed an advantage.
"I've never touched a flower arrangement in my life, but I know there's hope for my concept because I know colors, I know textures and I know how to create my room concept – I'll figure out how to bring the flowers into it," said David Font a landscape architect from Parkland, Florida.
Font presented his finished room to judges and viewers as "A design vignette of floral appreciation. It creates moments of what you can do with different flowers, different textures, different shapes and different colors. My goal was to create an outdoor room, with a little bit of color splash to go with the rest of the yard." Font's concept continuity combined with his bold, exciting use of color and texture, and the creative inventiveness of his glass pressed fresh flower coffee table was the flower power that HGTV expert judging panelists Jamie Durie, Chris Lambton, and David Bromstad said made him the competition winner.
"Each designer created several fresh flower art projects that are beautiful, unique DIY Mother's Day flower gift ideas with a huge 'wow' factor. David's glass pressed flower coffee table, many elements of Clarissa's romantic floral bistro, Saadia's rose covered couch, and Matthew's ivy sconces are a few of the fantastic pieces of fresh flower and live plant art they produced on the show," said Mark Chatoff, LA Flower District California Flower Mall president.
"LA Flower District California Flower Mall makes sourcing wholesale and discount farm fresh flowers and plants easy for anyone inspired to create unique, bold, budget friendly DIY Mother's Day flower gifts of art or a thoughtful DIY flower bouquet or arrangement of their mom's favorite flowers. We're open convenient hours from 4am to late evenings Mother's Day week and round the clock before Mother's Day Sunday until 7 pm May 13th so shopping for DIY wholesale and discount Mother's Day flower gift bouquets can be a fun, relaxed experience," he concluded.
About California Flower Mall
Mark Chatoff is Owner and President of The LA Flower District California Flower Mall and Vice Chairman of The LA Fashion District Business Improvement District. The LA Flower District California Flower Mall located at 825 San Pedro Street and 824 San Julian Street is one of the largest San Pedro Street wholesale flower markets. It is the only downtown LA flower mart in the six-block Flower District community that is open late evenings and round the clock until 7 pm Mother's Day Sunday May 13th. The LA Flower District is the largest community of wholesale flower markets in the U.S.