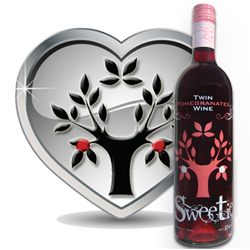 "I love it! I'm just starting to get into wine and it's perfect for that because it's semi-sweet. I had it one night with my cousin's red velvet cake pops and it brought the flavors out so much more!" - Teresa Aguirre, Customer
Madera, CA (PRWEB) January 31, 2012
Twin Pomegranates Wine, a Madera Winery, has increased their distribution to Whole Foods and Sprouts Farmers Markets Northern California region stores. The store locations range the Central San Joaquin Valley to the Bay Area to further Northern California.
Twin Pomegranates Wine began selling their wines over two years ago with Save Mart Supermarkets as their first retail locations. They started stocking the wines in a few stores, and now distribute to various grocery stores throughout California. Twin Pomegranates began selling wine to Whole Foods to satisfy their local Fresno market in May of 2011. With good sales, Whole Foods opened their doors to carry Twin Pomegranates wine in all their Northern Region stores. A few months later, Sprouts Farmers Markets contacted the twins to supply their stores with wine to satisfy consumer's requests at the store level. Find a retail location to buy pomegranate wine by visiting a location directory at http://twinpomegranates.com/pomegranatewinelocations.html.
"After a little over two years of selling our wines, our products have grown to be distributed in more grocery store chains throughout Northern California. The value and integrity of the pomegranate fruit makes our wines unique with flavor that make consumers curious to this interesting and unique style of wine," said Brian Davis, Co-Owner Twin Pomegranates Wine.
Twin Pomegranates Wine produces a 100% Pomegranate Table Wine, a Pomegranate White Wine Blend, a 100% Pomegranate Sparkling Wine and their newest addition, "Sweetie", a semi-sweet 100% Pomegranate Wine. For more information about these wines please visit http://www.TwinPomegranates.com or contact Co-Owner, Nick Davis (559) 352-8067.
About Twin Pomegranates Wine:
Twin brothers, Nick and Brian Davis established Twin Pomegranates Wine in 2008. They are fourth generation farmers, born and raised in California's Central Valley. Twin Pomegranates Wines are made from 100% California grown pomegranates. The company believes it is important to maintain the value and integrity of the fruit in order to maintain the beauty and integrity for which the pomegranate is well known. For additional information, you may visit the website at http://www.TwinPomegranates.com
###