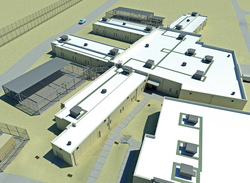 Roughly 70 percent of California's available water falls as rain or snow in the less populated north. Meanwhile, 80 percent of the demand lies in the southern two-thirds of the state, much of which gets just a few inches of rain a year. Former governor Pat Brown, who some 40 years ago built the California aqueduct to connect the delta to southern cities, said he did so to
La Puente, CA (Vocus) April 30, 2010
Salinas Valley State Prison's new mental health treatment facility has earned Silver certification under the Leadership in Energy and Environmental Design (LEED), making it the first LEED certification for the California Department of Corrections and Rehabilitation (announced March 2, 2010).
The new 64-bed facility at SVSP utilizes AcornVac Vacuum Plumbing, a Master-Trol Water Management System, and vandal-resistant fixtures from Acorn Engineering Company - proud participants in this exciting project!
AcornVac® Vacuum Plumbing System

Low-impact design requires fewer construction and utility costs to install and operate
Efficient technology requires only 0.5 gallons of water per flush, reducing water consumption by up to 68%
Mainline clogs and floods are eliminated. Passing contraband is rendered impossible
Master-Trol® Electronic Water Management System

Regulates use and dramatically reduces water consumption
Prevents disruptions to system and abuse of fixtures
Acorn Engineering® Fixtures that Fight Back

Superior quality and engineering—virtually indestructible
An April '10 special issue from National Geographic entitled "California's Pipe Dream" reports, "Roughly 70 percent of California's available water falls as rain or snow in the less populated north. Meanwhile, 80 percent of the demand lies in the southern two-thirds of the state, much of which gets just a few inches of rain a year. Former governor Pat Brown, who some 40 years ago built the California aqueduct to connect the delta to southern cities, said he did so to "Correct an accident of people and geography." But new commercial and institutional projects in California, like those at SVSP, can also take measures to correct the use of that water.Under a new Executive Order #S-20-04, design, construction and operation of all new state-owned facilities are required to be LEED certified.
Learn more at:
http://www.acorneng.com
http://www.acornvac.com
###