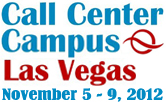 Santa Barbara, CA (PRWEB) July 03, 2012
BenchmarkPortal's College of Call Center Excellence will conduct its Call Center Campus Week this Nov. in Las Vegas. At this annual, unique call center industry event, call center managers and decision-makers can attend certification workshops, sessions and discussions throughout the week. Industry experts, along with BenchmarkPortal's premier team of instructors, will lead and guide classes and group discussions that explore the latest developments in the call center industry and engage participants of the best practices required to operate a profitable and reputable call center.
BenchmarkPortal intends that attendees gain new and practical insights, as well as strategies that contribute to their organizations' strengths and sustainability. The training at the Call Center Campus should also enhance individual leadership skills of attendees. Call center leaders will have the opportunity to interact with their peers, learn how to raise their best practice skills to new levels, participate in discussions to inspire innovative thinking and explore compelling avenues for advancing the call center industry. Participants will walk away with incredible tools that can be immediately applied in their centers.
The Call Center Campus Certification Training will occur Nov. 5-7 and includes certification workshops, access to the two-day symposium to follow, benchmarking survey, networking breakfasts and breaks, and lodging.
Call Center Management Certification: Nov. 5-7, 2012
Call Center Workforce Management Certification: Nov. 6-7, 2012
Call Center Quality Assurance Certification: Nov. 6-7, 2012
The Call Center Campus Symposium on Nov. 8th and 9th involves industry-leading keynote speakers, learning sessions, 'hot topic' roundtable discussions, and a networking reception.
About BenchmarkPortal
BenchmarkPortal's founders pioneered the first contact center benchmarking study in 1995. Now custodian of the largest database of contact center metrics in the world, BenchmarkPortal is a leader in certification, training, consulting and research for the customer contact industry. Its team of professionals has gained international recognition for expertise and innovation in best practices. BenchmarkPortal's mission is to help management optimize the performance of their center in terms of both costs and quality, encourage customer loyalty and build enterprise value. For more information on BenchmarkPortal please call 1-800-214-8929 or visit http://www.BenchmarkPortal.com.