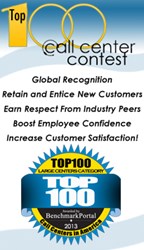 BenchmarkPortal's Top 100 Award places a contact center among the best in the industry in terms of both quality of service and cost efficiency.
Santa Barbara, CA (PRWEB) January 07, 2013
BenchmarkPortal, a leading call center consulting services group, announces the 2013 Top 100 Call Center Contest entry deadline is January 31, 2013. Participants submit performance data on key operating metrics, using BenchmarkPortal's 12 KPI (RealityCheck) Call Center benchmarking survey.
Completion of the survey not only grants entry in the contest but also provides a baseline from which to improve call center operations and save companies money. Once the survey is completed and submitted, BenchmarkPortal will schedule a readout with one of their certified experts, who will review the data and organize it in a personalized webcast. During the readout, their expert explains how the report works and review performance gaps compared with others in the industry. This unique benchmarking process allows managers to see how they compare to others in their industry sector. The key performance indicators "KPI's" that will be collected are metrics such as abandonment rate, hold time and average call time.
Contestants must complete the survey by January 31, 2013. Winners will be broken down into three subdivisions for small (100 agents and under), medium (101-249 agents) and large call centers (250+ agents). The winners in each category will have the highest statistical values for efficiency and effectiveness. To pay for success celebrations for the winners, nine cash awards, ranging from $500 to $2000, will be given to the highest-ranking entrants in three categories of call centers. BenchmarkPortal will release the results of the contest by March 31, 2013.
In addition to identifying the best in the business, the contest will also rank call centers that have made the most significant improvements since 2012's contest. Enrollees this year will be automatically entered in the category for Most Improved Center in 2013.
"BenchmarkPortal's Top 100 Award places a contact center among the best in the industry in terms of both quality of service and cost efficiency," said Bruce Belfiore, BenchmarkPortal CEO. "Key metrics are benchmarked against the largest database in the world of contact center metrics, so the award process is based strictly on actual performance. Recipients of the Top 100 Award have demonstrated, on a very objective basis, that they provide superior service and financial performance as compared with their peers."
To find more information on this contest, visit the Top 100 Call Center Contest page; find out more about the 12 KPI Call Center Benchmarking Survey (RealityCheck) and enter the Call Center Top 100 contest.
About BenchmarkPortal
BenchmarkPortal's founders pioneered the first contact center benchmarking study in 1995. Now custodian of the largest database of contact center metrics in the world, BenchmarkPortal is a leader in certification, training, consulting and research for the customer contact industry. Its team of professionals has gained international recognition for expertise and innovation in best practices. BenchmarkPortal's mission is to help management optimize the performance of their center in terms of both cost and quality, encourage customer loyalty and build enterprise value. For more information on BenchmarkPortal, call 1-800-214-8929 or visit http://www.BenchmarkPortal.com.