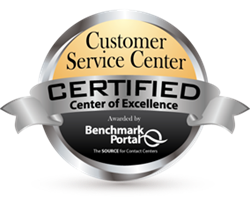 Center of Excellence certification indicates that the contact center delivers superior customer service within a responsible cost structure
Santa Barbara, CA (PRWEB) June 10, 2013
The Revolv customer contact center has been certified as a Center of Excellence by BenchmarkPortal, a leading contact center research and consulting organization. "Only the top 10 percent of those benchmarked annually achieve this distinction," said BenchmarkPortal CEO Bruce Belfiore. "This certification attests to the fact that call center leaders have successfully balanced efficiency and effectiveness in their operations. By optimizing their cost components and their ability to satisfy customers, they exemplify best practices in a very important consumer products sector"
To achieve certification as a Center of Excellence, a company must undergo a rigorous benchmarking process, which compares the organization's operational metrics to those of its peers, using the world's largest database of contact center metrics. During this process, BenchmarkPortal experts audit and verify key data from the contact center applying for certification.
Factors (called key performance indicators) such as first call resolution, cost per call, call waiting time, customer satisfaction, agent satisfaction and utilization of human resources are taken into account. BenchmarkPortal is able to scientifically gauge how the contact center being studied compares to other centers in the same industry, and if the performance of the contact center is superior. Customer satisfaction, which relates to customer loyalty and business growth, is the goal, balanced by financial metrics which show that the center is being operated efficiently.
"Center of Excellence certification indicates that the contact center delivers superior customer service within a responsible cost structure," said Belfiore. "A great contact center operation reflects its management's passion for balancing the demands of high quality and low costs. Revolv has shown its ability to achieve that balance through its objective performance metrics. We have validated its metrics and have certified that Revolv is, indeed, among the best in its industry. I congratulate Revolv on a job well done."
"A contact center that seeks and achieves the Center of Excellence Certification from BenchmarkPortal demonstrates a noteworthy commitment to service excellence. The obvious beneficiaries of this commitment are the center's customers, employees, and shareholders," added Belfiore, who has been with the company since 2000.
About BenchmarkPortal
BenchmarkPortal's founders pioneered the first contact center benchmarking study in 1995. Now custodian of the largest database of contact center metrics in the world, BenchmarkPortal is a leader in certification, training, consulting and research for the customer contact industry. Its team of professionals has gained international recognition for expertise and innovation in best practices. BenchmarkPortal's mission is to help management optimize the performance of their center in terms of both cost and quality, encourage customer loyalty and build enterprise value. For more information on BenchmarkPortal, call 1-800-214-8929 or visit http://www.BenchmarkPortal.com.
About Revolv
Revolv is a dental benefits administration and health informatics company. Our High-Tech, High-Touch approach allows us to improve revenue impact through reduced call response and revenue cycle times, as well as improved data integrity, cost containment and overall customer experience. We provide specialized customer services and advanced claims processing systems with true Real-Time claims adjudication capabilities, as well as ancillary services such as benefit-consultation, business analytics, quality assessment and integrity tools--all specifically designed to address the unique needs and regulatory landscape of the dental insurance marketplace. To join the revolution, visit myrevolv.com.